In battling COVID-19, countries shouldn't lose sight of sustainable development warns a new report from the United Nations Environment Programme (UNEP). COVID-19 is threatening to plunge millions of people into poverty and worsen global hunger, undermining the long-running push for sustainable development.
The report, COVID-19, the Environment and Food Systems, calls on states to use their response to the coronavirus to support sustainable development. To build more sustainable, resilient food systems and monitor their recovery efforts against sustainable development targets.
"There is a real concern that focusing resources on mitigating the acute impacts of COVID-19 could reduce resources for sustainable development programmes in general, crowding out important initiatives in 2021 and beyond," says the UNEP's Salman Hussain, who coordinated the report.
The Sustainable Development Goals, adopted by all United Nations member states in 2015, contain 17 targets designed to combat poverty, bolster healthcare and improve education while safeguarding the environment. The pandemic is threatening to reverse decades of progress towards those goals. Up to 100 million people could face extreme poverty this year because of COVID-19. The pandemic would mark the first rise in penury since 1998, said the report. proposes several ways to curb the virus and promote economic recovery while supporting sustainable development and bolstering food systems.
1. Align pandemic responses with global agreements
Wherever possible, emergency fiscal measures to prevent a global recession must align with the overarching Sustainable Development Goals and the Paris climate change agreement.
2. Ensure food security
Measures to mitigate the pandemic and promote economic recovery will only be successful when food security is guaranteed. Producing food nearer to consumption and improving transportation networks can help minimize food loss and waste, a pressing global problem. In Europe there is the famous Farm to Fork strategy.
3. Facilitate the movement of farmworkers
This would help ensure demand for their services can be better satisfied. This must take place in parallel with measures to prevent the spread of COVID-19 among farm workers and food processors by improving working conditions.
4. Promote a green recovery
Measure the environmental impacts of COVID-19 recovery policies and take opportunities to leapfrog to green investments and sustainable development. Promote nature-based solutions to bolster the biodiversity that underpins sustainable food systems.
The world needs consistency and coherence between emergency relief and long-term objectives for sustainability, resilience and equity.

Salman Hussain, UNEP
5. Recognize that win-win opportunities exist and capture them
Restoring habitats and degraded land, along with climate-smart agriculture, can have a positive impact on reducing greenhouse gases and improving food security. Environmental clean-ups, sustainable development – investment in agriculture, safeguarding natural resources and improving energy efficiency all have the potential for positive short-term stimulus effects.
6. Improve the efficiency of water infrastructure
In developing countries, implementation focus on reducing illicit water extraction and incentivizing water-efficient agriculture. Water scarcity can reduce food security and increase competition for water. COVID-19 has underlined the importance of clean water for sanitation.
7. Better regulate the meat and animal trade
This would reduce the chances of a new pandemic, protect endangered species and support rural livelihoods.
8. Apply a food systems approach
Evaluation tools such as the TEEBAgriFood Framework should be used to ensure ecosystem services are valued, human and social capital is included in assessments and a full value chain assessment is applied.
9. Adopt a One Healthapproach
Planning by international agencies and member states should ensure that human activities do not adversely affect the health of plants, animals and the ecosystems on which humans depend.
The new report is part of a series designed to help countries build back more sustainably from the pandemic. States have always to focus on the macroeconomic goal of sustainable development The first publication in the series, Building a Greener Recovery: Lessons from the Great Recession, was launched last month.
Nature is in crisis, faces biodiversity and habitat loss, global heating and toxic pollution. Failure to act is failing humanity. Addressing the COVID-19 pandemic and protecting humanity against future global threats requires sound management of hazardous medical and chemical waste; strong and global stewardship of nature and biodiversity; and a clear commitment to "building back better", creating green jobs and facilitating the transition to carbon-neutral economies. Humanity depends on action now for a resilient and sustainable future. In battling COVID-19, countries shouldn't lose sight of sustainable development.
The COVID-19 Recovery Offers Opportunities to Address Climate Crisis
The International Renewable Energy Agency (IRENA) is an intergovernmental organisation that supports countries in their transition to a sustainable energy future. IRENA serves as the principal platform for international cooperation and is a centre of excellence. IRENA is a repository of policy, technology, resource and financial knowledge on renewable energy. Costanza Strinati is an Associate Programme Officer of Renewable Energy Finance, Knowledge, Policy & Finance Centre in IRENA and published the following report.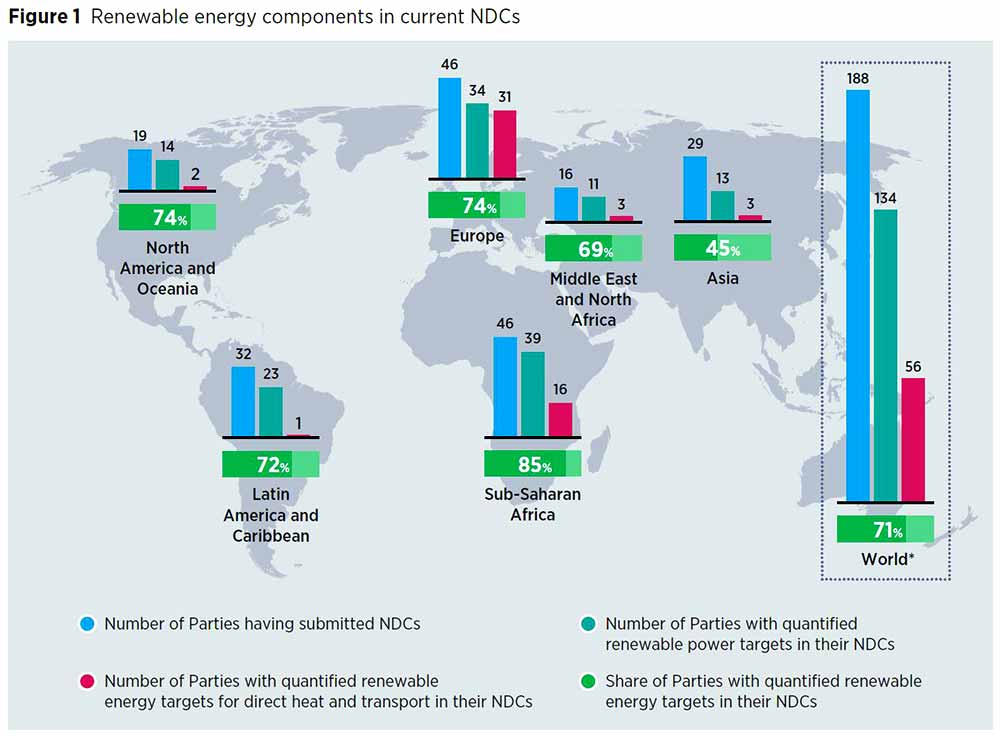 Amid the economic fallout of COVID-19, there are concerns that global efforts and resources may be diverted away from climate change to tackle the pandemic. But the solutions to these crises should not be mutually exclusive. If anything, raising the climate ambitions expressed in the Nationally Determined Contributions (NDCs) is a smart move, both for the economies and climate targets. Here's why:
Increasing investment in the energy transition within COVID-19 recovery packages creates jobs and boosts national economies. An average annual investment of USD 2 trillion in clean energy in the recovery phase (2021–2023) could create an additional 5.5 million jobs. Several governments have realised this, announcing multi-billion-dollar green stimulus packages, often with renewables at the core. In August 2020, the now president-elect of the United States, Joe Biden, announced his ambitious plan to allocate USD 1.7 trillion to the green recovery between now and 2030. In July 2020, the European Union earmarked EUR 550 billion for 2021-2027 (or 30% of its overall recovery package) solely to green projects. If such commitments are reflected in NDCs updates, they will significantly contribute to raising climate ambitions.
One lesson learnt from the COVID-19 pandemic is that only an immediate, collective global response can stem global crises. This is also true of climate change. But waiting for concerted and decisive intervention is not an option the world can afford now. Using the Paris Agreement as a shared platform to accelerate the energy transition is the first step towards progress.
In 2020, renewables have proven more resilient to the disruption caused by the pandemic than fossil fuels. As a result, renewable energy has become more attractive to investors looking to reduce their exposure to sustainability-related risks. Oil and gas companies are also revising their business strategies to cut their fossil fuel production and integrate higher shares of renewables. This is the kind of momentum that governments can leverage to set higher commitments for renewables in their updated NDCs.
The potential to raise global ambitions for renewables under the Paris Agreement is enormous. Five years since the historic Agreement, only 25 countries have revised their NDCs. Announcements from the European Union and at least 12 other countries to date related to net-zero emissions targets provide hope. But more countries need to grasp this opportunity to step up and lock in their ambitions.
Share this debate with your friends!
Follow #eudebates on Google News and on Facebook