There are concerns that trade agreements can lead to job losses, new high competition, but these deals always create more jobs than they destroy. A No-Deal or a non-updated trade agreement could lead to weird and unexpected trade conditions.
US

protectionism
Trade relations between the EU and US have been rocky since Donald Trump was elected on a platform of protectionism and nationalism. Negotiations on a Transatlantic Trade and Investment Partnership (TTIP) were stopped until further notice at the end of 2016.
When Trump imposed additional import duties on steel and aluminium imports, MEPs called the move unacceptable and incompatible with WTO rules. MEPs also expressed concern about US customs duties on Spanish olives, imposed in January 2018 after the US deemed they were being imported at below market price.
Tensions escalated last year when Trump threatened to slap additional tariffs on European cars in the name of national security. Jean-Claude Juncker, president of the European Commission, met Trump on behalf of the EU to discuss the threat and the two agreed to relaunch trade talks.
The EU and the US are set to enter trade talks in a bid to resolve their disagreements. On 19 February, the international trade committee voted in favour of a resolution calling for the talks to start, but only under certain conditions. The European Commission will negotiate on behalf of the EU, but its mandate requires approval. Parliament will adopt its position in March, when the EU Council of Ministers is also expected to adopt a draft negotiating mandate. Any deal resulting from these talks has to be approved by the European Parliament before it can enter into force.
European Union moves to protect key EU interests for:
the US to lift tariffs on aluminium and steel
cars and car tariffs to be included in the talks
agriculture to be excluded from the talks
Of course, we are trying to create a rule-based trading system. Our bilateral agreements are based on clear rules and not on power.
Bernd Lange, German S&D member
The importance of trade agreements
Trade agreements are very important to the EU as they are a key driver of economic growth. In 2015 the EU was the world's biggest exporter and importer of goods and services, covering 32.15% of the global trade, ahead of the US (12.01%) and China (10.68%). New trade agreements create new business opportunities for European companies, leading to more jobs being created, while consumers can look forward to more choice and lower prices.
Quality standards are always a red line in trade agreements and any attempt to lower them could be a reason for them to reject them. In addition EU negotiators often include clauses regarding human rights and labour rights in trade agreements to help improve the situation in the country we are trading with.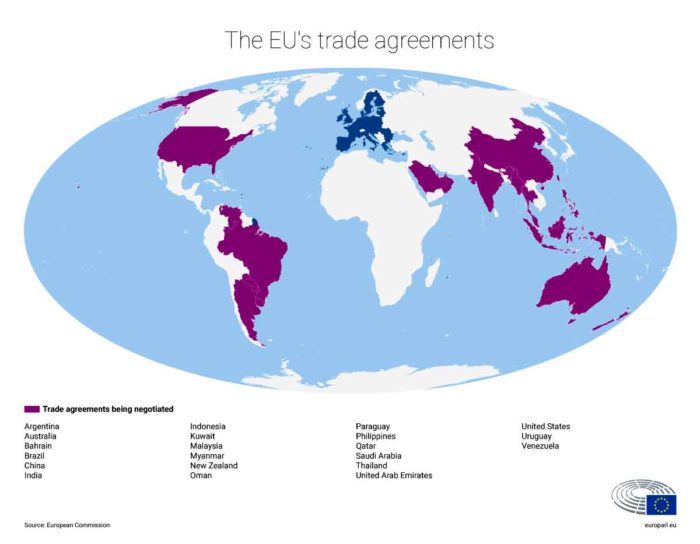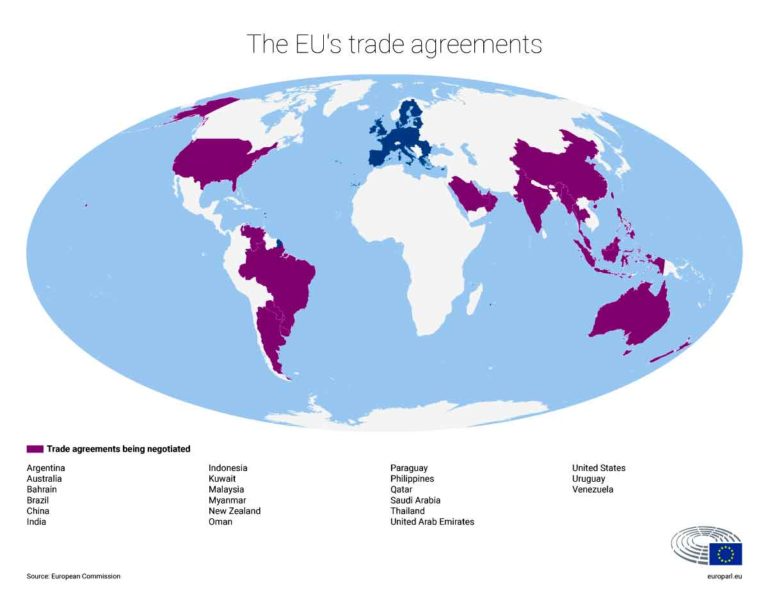 The European Commission has asked the EU's 28 countries to approve two negotiating mandates so that formal talks can begin, with many aware that U.S. President Donald Trump may hit EU car imports with duties if they wait too long.
WTO reforms, EU US relations and the state of play of different trade negotiations.
Cecilia Malmstrom EU Trade Commissioner
The future negotiations on an agreement limited to industrial goods are not linked to previous discussions on the Transatlantic Trade and Investment Partnership (TTIP) that remain frozen.
The European Union and the United States have the largest bilateral trade and investment relationship and enjoy the most integrated economic relationship in the world.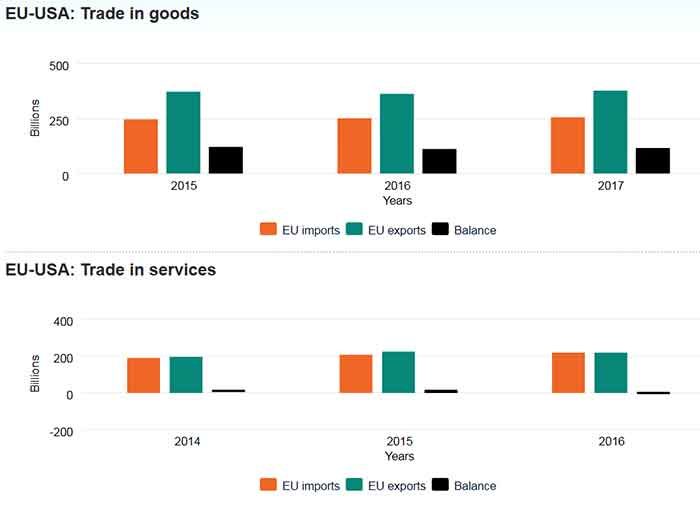 The targeted scope of the trade negotiations reflects a shared ambition with the US to develop a positive trade agenda that brings quick and tangible results to both sides. They are one leg of an ongoing process to improve the transatlantic trade relationship that is already delivering results, including closer cooperation on diversifying European energy sources through increased imports of liquefied natural gas (LNG) or soybean imports from the US, as well as reforming the international rules on trade.
An economic analysis by the European Commission confirms that the EU and the US would stand to gain considerably from eliminating the remaining tariffs on all industrial goods. This could increase EU exports of industrial goods to the US by 8% and US exports to the EU by 9% by 2033, which corresponds to respectively €27 billion and €26 billion in EU and US exports.
Significantly, it would give transatlantic companies of all sizes a comparative advantage, lower costs in integrated supply chains, thereby also supporting their capacity to compete globally.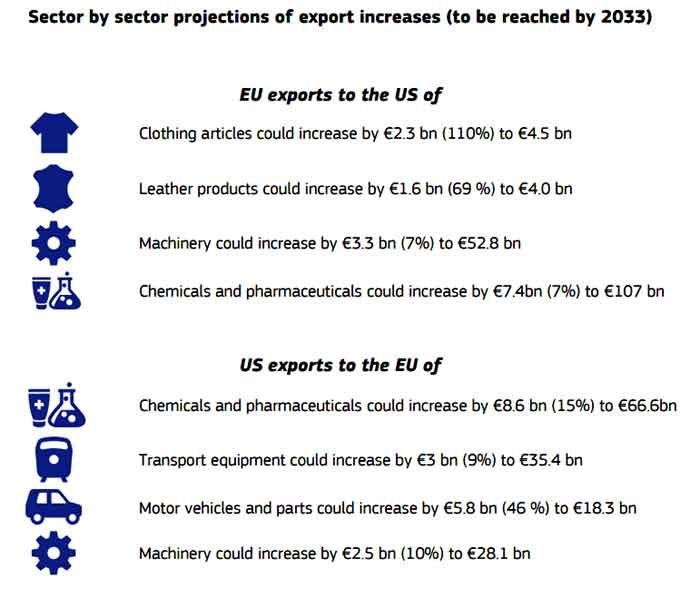 Waiting for the EU Parliament Vote!
Parliament will vote on its stance on the mandates in March. EU Council of Ministers is expected to adopt the draft negotiating mandates in the same month. The Commission will start negotiations on the basis of the final mandate.
Can

Trade wars

and

Trump tariffs

be the Future of Global trade?
Is this

protectionism

or

global reforms

needed?
Is Trump seeking to protect the local industries and jobs from unfair European competition?
Does Europe need

protectionism measures, tariffs, China import quotas,

and

subsidies

to local producers?
Debating Global

Trade Wars

!
Share this debate with your friends!
Follow #eudebates on Google News and on Facebook