Netflix is aggressively ramping up global productions, particularly in Europe and Asia according to the latest reports. Netflix is gearing up for season three of one of its most popular international shows, Money Heist, sharing the first teaser trailer and release date for the upcoming set of episodes. Eight thieves take hostages and lock themselves in the Royal Mint of Spain as a criminal mastermind manipulates the police to carry out his plan. Part 3 Coming on 19th July. This riveting crime series won Best Drama at the International Emmy Awards and the Premios Fénix.
Netflix Streaming
Netflix is a streaming service that allows viewers to watch a wide variety of award-winning TV shows, movies, documentaries, and more on thousands of internet-connected devices. With Netflix, you can enjoy unlimited viewing of content without having to watch a single commercial. There's always something new to discover, and more TV shows and movies are added every month!
La Casa De Papel Season 3 Teaser Trailer
The European Commission welcomed the positive vote for the EP Directive that will simplify cross-border distribution and retransmission of television and radio programmes.
We are getting another step closer to a fully functioning Digital Single Market.
Mariya Gabriel & Andrus Ansip
Radio and TV programmes are an essential source of information, culture and entertainment for European citizens. The new rules will offer better access to such programmes across the Union, for the benefit of cultural diversity. They will make it easier for European broadcasters to make large parts of their TV and radio programmes available online in all EU countries, while ensuring that creators, authors and rights holders are adequately paid for the use of their content.
The new rules will be particularly relevant for the 41% of Europeans who watch TV online but also for the linguistic minorities, as well as the 20 million EU citizens who are living abroad in another EU country.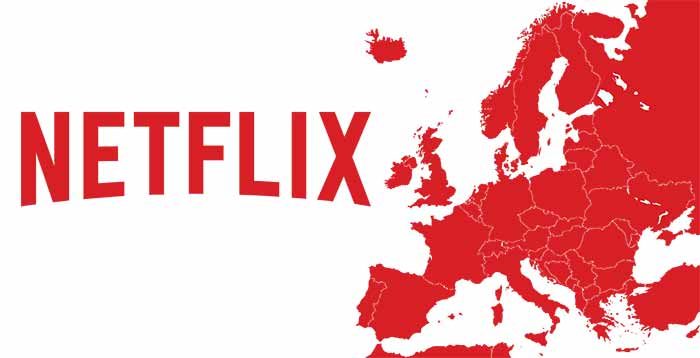 EU travels with online subscriptions
Together with the portability rules allowing Europeans to travel with their online subscriptions, with the implementation of the Marrakesh Treaty providing better access to books to blind and visually impaired people, as well as the new Copyright Directive designed to bring tangible benefits to citizens, creative sectors, and the press, EU is completing the broader initiative to bring EU copyright rules up to date for the digital age.
Netflix is available for streaming over the internet in over 190 countries around the world! When you're traveling, relocating in your current country, or relocating to a new country, Netflix is available. EU residents have access to the same online content anywhere in the EU.
La Casa de Papel – NETFLIX
https://www.facebook.com/lacasadepapelnetflix/videos/2175435619208538/
Netflix's Growing European Audience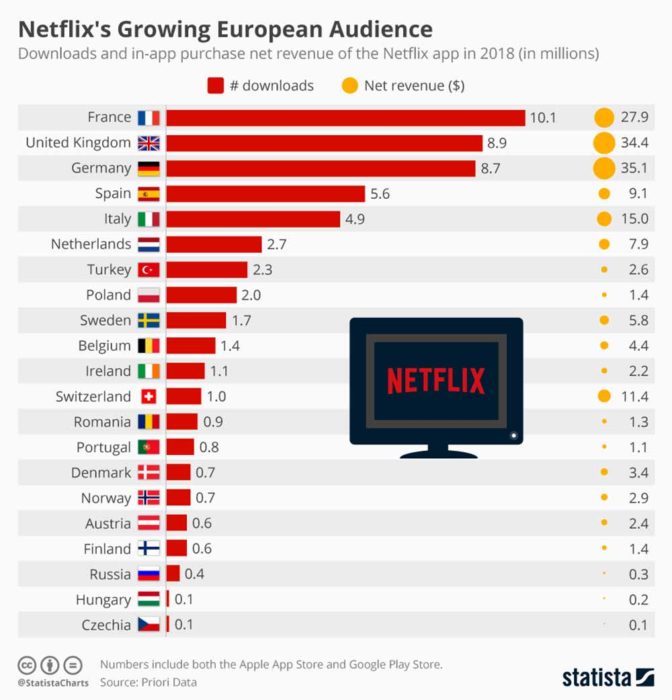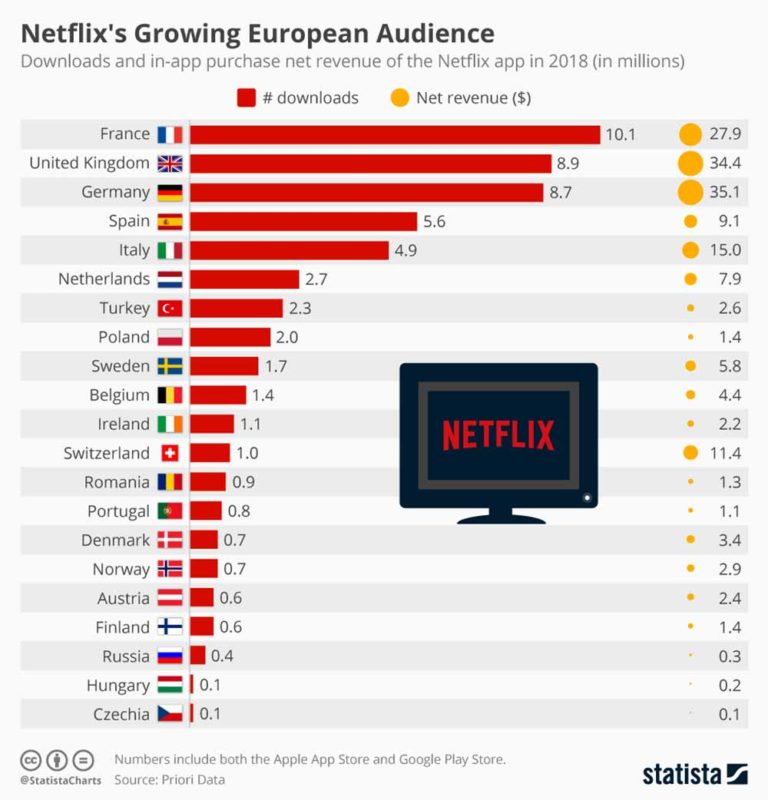 The new EU rules will provide:
New opportunities for broadcasters, through the country of origin principle that will facilitate the licensing of rights, to make certain programmes on their online services available across borders (services covered are simulcasting, catch-up services and other services that complement the main broadcast, such as previews).
A wider choice of radio and TV programmes offered by retransmission services provided through Internet Protocol television (IPTV), satellite, digital terrestrial, mobile networks or over the internet. The Directive applies a facilitated rights clearance mechanism – the system of compulsory collective management – to retransmission services provided through means other than cable (e.g. over internet), making it easier to obtain authorisations required to retransmit radio and TV channels from other Member States.
Legal certainty for transmissions of radio and TV programmes through direct injection, ensuring that rights holders are adequately remunerated when their works are used in programmes transmitted through direct injection.
This EP Directive complements the rules set out in the existing Satellite and Cable Directive (Directive 93/83/EEC), which already facilitates cross-border satellite broadcasting and retransmission by cable of TV and radio programmes from other Member States.
The rules on broadcasters' online transmissions will apply to all radio programmes, and to certain television programmes (news and current affairs programmes and fully financed own productions of broadcasters).
EU Debates!
#TV and #Radio
Your opinion counts!
Share this debate with your friends!
Follow #eudebates on Google News and on Facebook