On 16 July 2019 the European Parliament elected Ursula von der Leyen the future President of the European Commission. She is the first woman to be President-elect of the European Commission.
A European by heart and by conviction, Ursula von der Leyen announced that she will focus on an ambitious climate agenda to make Europe the first climate-neutral continent by 2050. She also committed to working closely with the European Parliament to strengthen democracy and a fair social market economy in Europe. Ursula von der Leyen also gave a very personal insight into her idea of Europe's path amid global challenges: "We need to do it the European way".
We will do it the European way

Ursula von der Leyen
Ursula von der Leyen intends to select a team of Commissioners composed of an equal number of women and men, based on candidates suggested by the Heads of State or Government. To take office, the list of Commissioners-designate has to be agreed by the Council and the European Parliament needs to give its consent to the new European Commission (2019-2024) as a whole.
I am happy to have received names from all the EU Member States. Now looking forward to assembling a well-balanced College which I'll present on Tuesday. pic.twitter.com/EfZbJy609r

— Ursula von der Leyen (@vonderleyen) September 5, 2019
President-elect announced her plans in a post on Twitter: I am happy to have received names from all the EU Member States. Now looking forward to assembling a well-balanced College which I'll present on Tuesday.
Biography
Ursula von der Leyen is a licensed physician and was born on 8 October 1958 in Brussels. She is married and has seven children.
Political career
Since December 2013
Federal Minister of Defence
2009 – 2013
Federal Minister of Labor and Social Affairs
Since October 2009
Member of the German Bundestag
2005 – 2009
Federal Minister for Family Affairs, Senior Citizens, Women and Youth
Since December 2004
Member of the Presidium of the Christian Democratic Party (CDU) of Germany
March 2003 to November 2005
Minister for Social Affairs, Women, Family Affairs and Health in Lower Saxony
2003 – 2005
Member of the CDU in the State Assembly of Lower Saxony
2001 – 2004
Various local political positions in the region of Hanover
1999
Member of the Physicians' Working Group of the CDU of Lower Saxony
Since 1990


Member of the CDU

Professional and academic career
1998 – 2002
Member of the academic staff, Department of Epidemiology, Social Medicine and Health System Research, Hanover Medical School (Medizinische Hochschule Hannover, MHH)
1995
Market analysis, Stanford Health Services Hospital Administration
1993
Auditing guest: Graduate School of Business, Stanford University
1992 – 1996
Lived in Stanford, California, USA
1988 – 1992
Assistant physician, Women's Clinic, Hanover Medical School
Education
2001
Master of Public Health (M.P.H.)
1991
Doctorate
1987
State examination and license to practice
1980 – 1987
Studied medicine at Hanover Medical School
1978
London School of Economics
1977 – 1980
Studied economics in Göttingen and Münster
1971 – 1976
Attended grammar school with a special focus on mathematics and science, Lehrte
1964 – 1971
European School of Brussels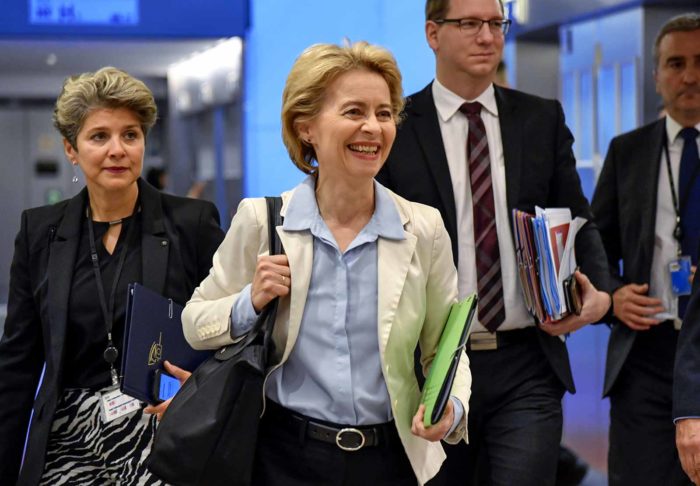 Ursula von der Leyen – the first female Commission President – will present her proposed College of Commissioners. All this period she tried for an equal number of male and female commissioners.
Candidate Commissioners –

Evaluation process
Candidates for the other Commission portfolios have to go through a tough parliamentary vetting process.
The Council, in agreement with the Commission President-elect, adopts a list of candidate commissioners, one for each member state. These Commissioners-designate appear before parliamentary committees in their prospective fields of responsibility (hearings will probably take place in October). Each committee then meets to draw up its evaluation of the candidate's expertise and performance, which is sent to the Conference of Committee Chairs.
The Conference of Committee Chairs sent the evaluation letters to the President of the Parliament and it is to the Conference of Presidents to close the hearings. A negative evaluation can prompts candidates to withdraw from the process. The full Commission, including the Commission President and the High Representative for Foreign Affairs and Security Policy, then needs to be approved in a single vote of consent by Parliament. After the President and Commissioners have been approved by Parliament, they are formally appointed by the European Council, acting by a qualified majority.
In the event of a substantial portfolio change during the Commission's term of office, the filling of a vacancy or the appointment of a new Commissioner following the accession of a new member state, the Commissioner concerned is heard by the relevant committee as well.
Share this debate with your friends!
Follow #eudebates on Google News and on Facebook