The leader of Germany's Christian Democrats (CDU Party), Annegret Kramp-Karrenbauer agrees with French President Emmanuel Macron on migration and climate change, but dismissed idea of EU-wide minimum wage.
Karrenbauer, probably the future conservative candidate for the chancellery, sets out her vision in an article published in the Sunday newspaper Welt am Sonntag under the headline, "Getting Europe right.". Her comments came after French President Emmanuel Macron set out his ideas for Europe's future.
Annegret Kramp-Karrenbauer, who took over from Angela Merkel the CDU leadership last December, agreed with the French President that "Europe must get stronger" but argued that the answer was not to create more European institutions and transfer power away from national governments.
A new Europe cannot be founded without the nation states
A. Kramp-Karrenbauer
On the other hand she called for a common, permanent seat for Europe on the United Nations Security Council. This is a long-standing demand of Germany, but France is keen to keep its only European UN seat.
Future made in Europe
Her response to recent proposals from French President Emmanuel Macron includes a call for a "single market for banks" and a pan-European climate pact.
European centralism, European statism, the communitisation of debts, a Europeanisation of social systems and the minimum wage would be the wrong way!
Annegret Kramp-Karrenbauer – German CDU Leader
She also said a joint EU innovation budget should fund new technologies, tax loopholes should be closed in the bloc and a digital tax introduced based on an Organisation for Economic Co-operation and Development (OECD) model. The first priority is to safeguard the foundations of our prosperity. In the European internal market, too, earning comes before distribution.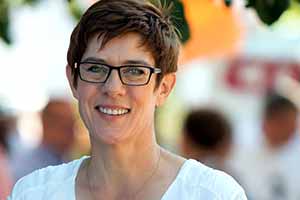 The EU elections 2019 cannot focus upon defending the imperfect status quo of today's EU against populist accusations. The question of whether one is "for" or "against" Europe does not arise for most citizens. Instead, we must consider different concepts and reshape our ideas. We must ask how the EU can improve its capacity to take action on key issues in future, and how it will continue its unprecedented success story in the ever-shifting global conditions of tomorrow.
Many Member States face the challenge of keeping together a society that has become more heterogeneous as a result of immigration.
Getting Europe right
The world is in flux, and Europe is faced with a choice. Mine is clear: we must now make Europe right. We need strategic strength for our industry, technology and innovation, a sense of security for our European citizens, and common foreign and security capabilities to defend our interests.
We should now confidently go to work, and not be timidly prevented from doing so by the constant anxious questions about "the populists".
EU Debates!
Your opinion counts!
Share this debate with your friends!
Follow #eudebates on Google News and on Facebook