Pfizer, in partnership with Germany company BioNtech, plans to supply 1.3 billion doses of the vaccine in 2021 from factories like this in Belgium. The COVID vaccine is produced at the Belgian site of Puurs and at Pfizer's Kalamazoo site in the state of Michigan in the US.
EMA recommends BioNTech-Pfizer vaccine
EMA recommended BioNTech-Pfizer vaccine as the first COVID-19 vaccine for authorisation in the EU. The European Medicines Agency assessed this vaccine thoroughly and granted conditional marketing authorisation to the vaccine produced by BioNTech and Pfizer. The vaccine is safe and effective against COVID-19. Based on this scientific assessment, EMA proceeded to authorise it for the European Union market.
A safe and effective vaccine is our best chance to beat coronavirus and return to our normal lives.

President von der Leyen (10/11/2020)
The first batches of BioNTech-Pfizer vaccine shipped from Pfizer's manufacturing site in Belgium last December 2020. Vaccination started at the same time, during the European Union vaccination days, on 27, 28 and 29 December.
BioNTech has received more than EUR 9 million of EU research funding over the past decade, to develop these really ground-breaking technologies. This helped expand its manufacturing capacities and supply the vaccine quickly worldwide. And this is a true European success story.
EU contract with BioNTech-Pfizer
The contract with BioNTech-Pfizer would provide for the possibility for all EU Member States to purchase the vaccine, as well as to donate to lower and middle income countries or re-direct to European countries. It is anticipated that the Commission will have a contractual framework in place for the initial purchase of 200 million doses on behalf of all EU Member States, plus an option to purchase up to a further 100 million doses, to be supplied once a vaccine has proven to be safe and effective against COVID-19.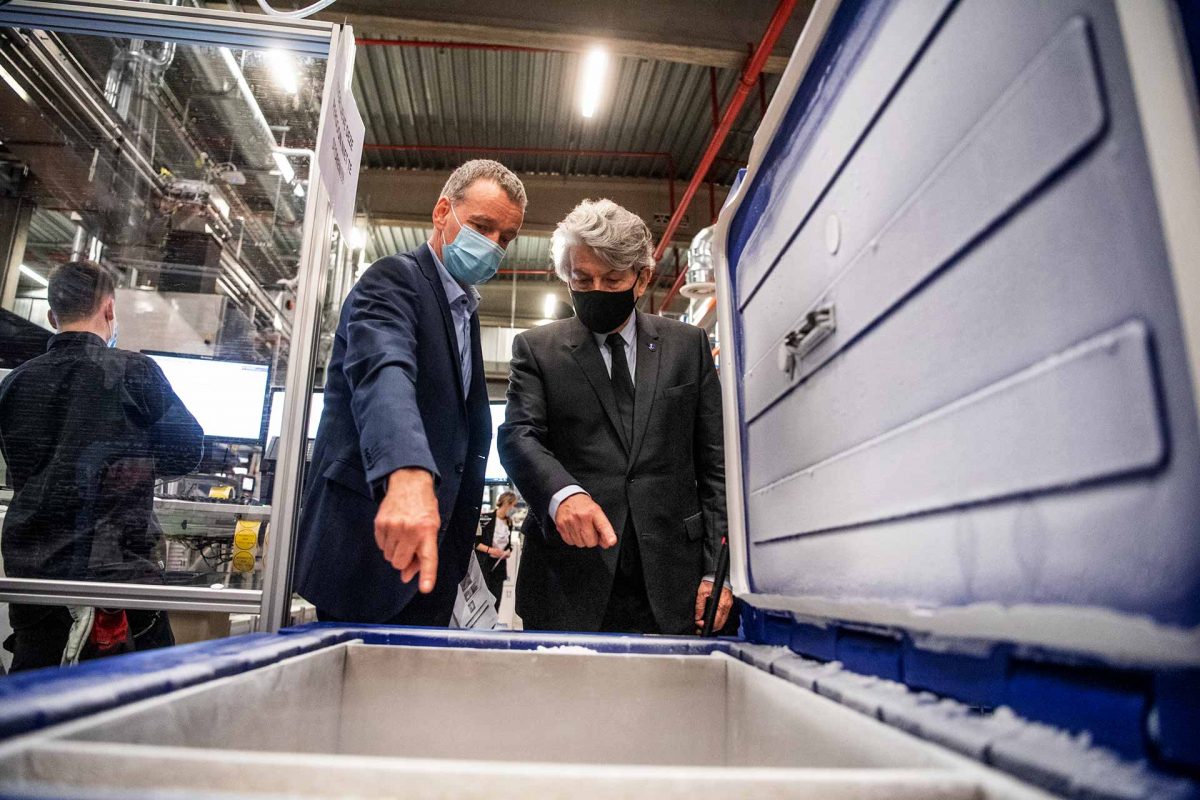 Pfizer
Pfizer, based in the US, is a pharmaceuticals company active worldwide in the research, development, manufacturing and marketing of innovative medicines. Pfizer's Consumer Health Business offers products in five major areas: (a) pain management; (b) gastrointestinal health; (c) respiratory; (d) dietary supplements, and (e) personal care products (e.g. lip care).
BioNTech
BioNTech is a German company working with US-based Pfizer to develop a new vaccine based on messenger RNA (mRNA). mRNA plays a fundamental role in human biology, transferring the instructions which direct cells in the body to make proteins to prevent or fight disease.
European Commissioner visits BioNTech-Pfizer factory
Thierry Breton, European Commissioner for Internal Market, visited the Pfizer factory in Puurs, Belgium. Commissioner inspected the Pfizer Manufacturing in Belgium, Puurs Sint Amands. The municipality of Puurs in Antwerp, is one of the two sites chosen to produce the vaccine currently in development against Covid-19.
Puurs is a Belgian small town of 17,000 in the Dutch-speaking region of Flanders. Belgium ranks in the top three EU countries for the export of pharmaceuticals, together with Germany and Ireland. Pfizer plant, but also Novartis, Alcon, and some little Flemish companies are working in the pharmaceuticals industry. All together have more than 5,000 employees working in this sector.
Share this debate with your friends!
Follow #eudebates on Google News and on Facebook