Bill Gates warns in the next 30 years we need scientific breakthroughs, technological innovations and global cooperation to avoid a future climate disaster. Anderson Cooper reports for 60 Minutes and the Microsoft billionaire warns that climate change would take dramatic innovation over the next 30 years. We need to teach the next generation how to design sustainable innovative solutions.
Without innovation, we will not solve climate change. We won't even come close!

Bill Gates
Microsoft co-founder Mr. Bill Gates supports President Joe Biden decision to rejoin the Paris Agreement. For decades he invests in innovative solutions to some of the world's toughest problems. Invests on global poverty, disease, and the Coronavirus pandemic. He said that innovation should focus beyond the issues society already knows about – electric cars, clean energy – and loop in things like concrete and steel manufacturing, which account for 16% of all carbon emissions. Bill Gates has already invested $2 billion on green technologies, focusing on a new nuclear power plant.
Anderson Cooper: "You believe this is the toughest challenge humanity has ever faced?"
Gates: "Absolutely. The amount of change, new ideas. It's way greater than the pandemic. And it needs a level of cooperation that would be unprecedented. …"
Cooper: "It sounds impossible."
Gates: "We have more educated people than ever. We have a generation that's speaking out on this topic. And, you know, I got to participate in the miracle of the personal computer and the internet. And so, yes, I have a bias to believe innovation can do these things."
How to Avoid a Climate Disaster:
The Solutions We Have and the Breakthroughs We Need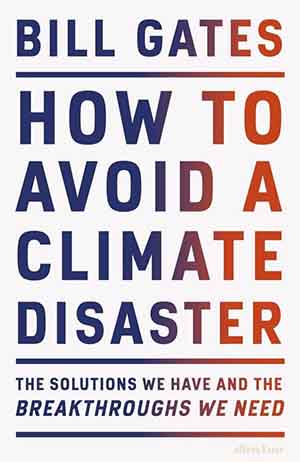 In this urgent, authoritative book, Bill Gates sets out a wide-ranging, practical – and accessible – plan for how the world can get to zero greenhouse gas emissions in time to avoid a climate catastrophe.
Bill Gates has spent a decade investigating the causes and effects of climate change. With the help of experts in the fields of physics, chemistry, biology, engineering, political science, and finance, he has focused on what must be done in order to stop the planet's slide toward certain environmental disaster. In this book, he not only explains why we need to work toward net-zero emissions of greenhouse gases, but also details what we need to do to achieve this profoundly important goal.
He gives us a clear-eyed description of the challenges we face. Drawing on his understanding of innovation and what it takes to get new ideas into the market, he describes the areas in which technology is already helping to reduce emissions. Where and how the current technology can be made to function more effectively. Where breakthrough technologies are needed, and who is working on these essential innovations. Finally, he lays out a concrete, practical plan for achieving the goal of zero emissions. He mentions not only policies that governments should adopt. He also suggests what we as individuals can do to keep our government, our employers, and ourselves accountable in this crucial enterprise.
As Bill Gates makes clear, achieving zero emissions will not be simple or easy to do, but if we follow the plan he sets out here, it is a goal firmly within our reach.
Join the climate debate!
Share this debate with your friends!
Follow #eudebates on Google News and on Facebook