Every year it seems like there's another disastrous wildfire in the European South. Forests cover over a third of the total land area of Europe. In recent years, large forest fires have repeatedly affected Europe, in particular the Mediterranean countries. Forest fires incidence is increasing, leading to ecological changes and to desertification in some parts of Europe.
In Europe, it is mainly the 5 southern countries that are affected by forest fires: Portugal, Spain, France, Italy and Greece. For all these countries, the annual average number of fires between 1980 and 2006 was around 49,000 and the annual average of fire areas was almost 500,000 ha. However the statistics considerably varies from one year to the next, which clearly indicates the influence of seasonal meteorological conditions.
How Europe turned into a perfect landscape for Wildfires?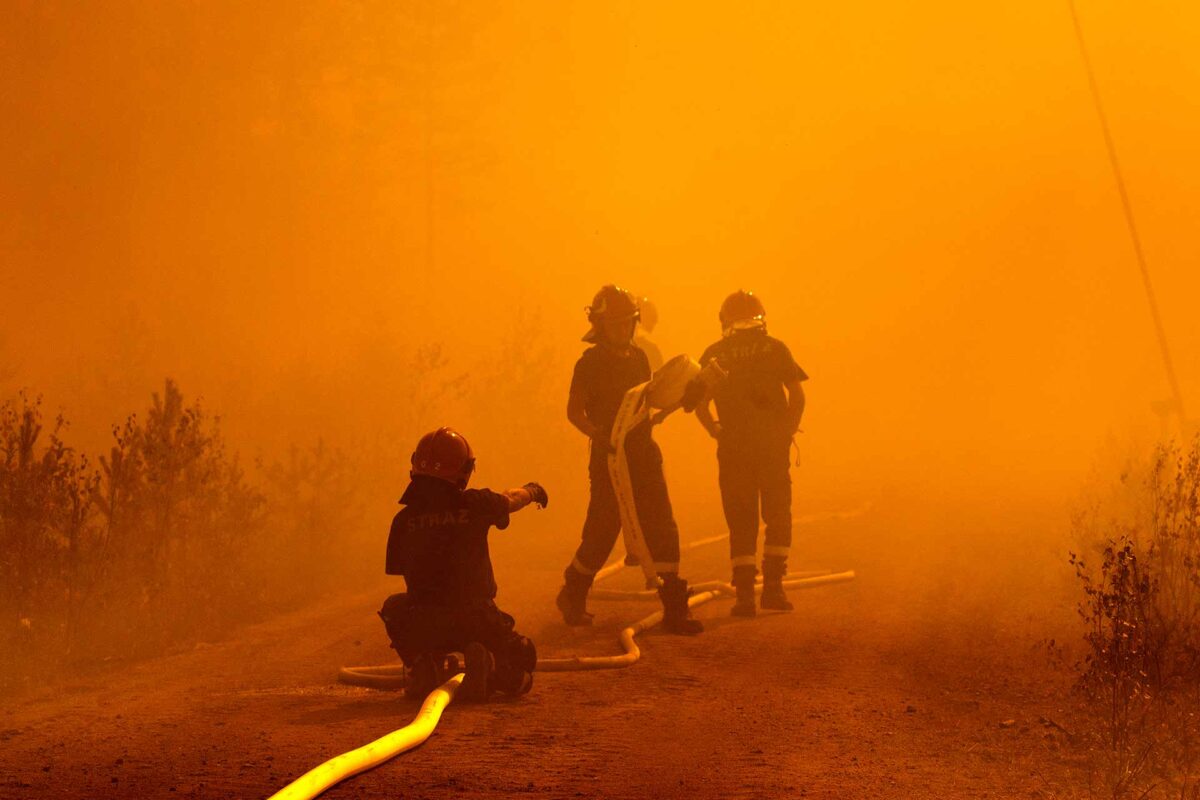 Dry conditions are a headache for EU South
In France, the regions generally affected by forest fires are situated in the South-west and in the Mediterranean regions. In Greece, Spain and Portugal all the regions of the countries can be affected. This is also the case for Italy, but the risk is higher in the southern regions Calabria, Lazio and Sicily. Other Mediterranean countries like Cyprus and Turkey are also affected by forest fires, but to a lesser extent. In the Mediterranean
region for example, forest fires are one of the causes of increasing desertification.
Desertification
Advancing desertification in the European Mediterranean region is not only a significant ecological problem, it alsohas severe economic and social
consequences. Even today, 300,000km2 are affected by desertification in the European Mediterranean region, jeopardizing the livelihood of 16.5 million people.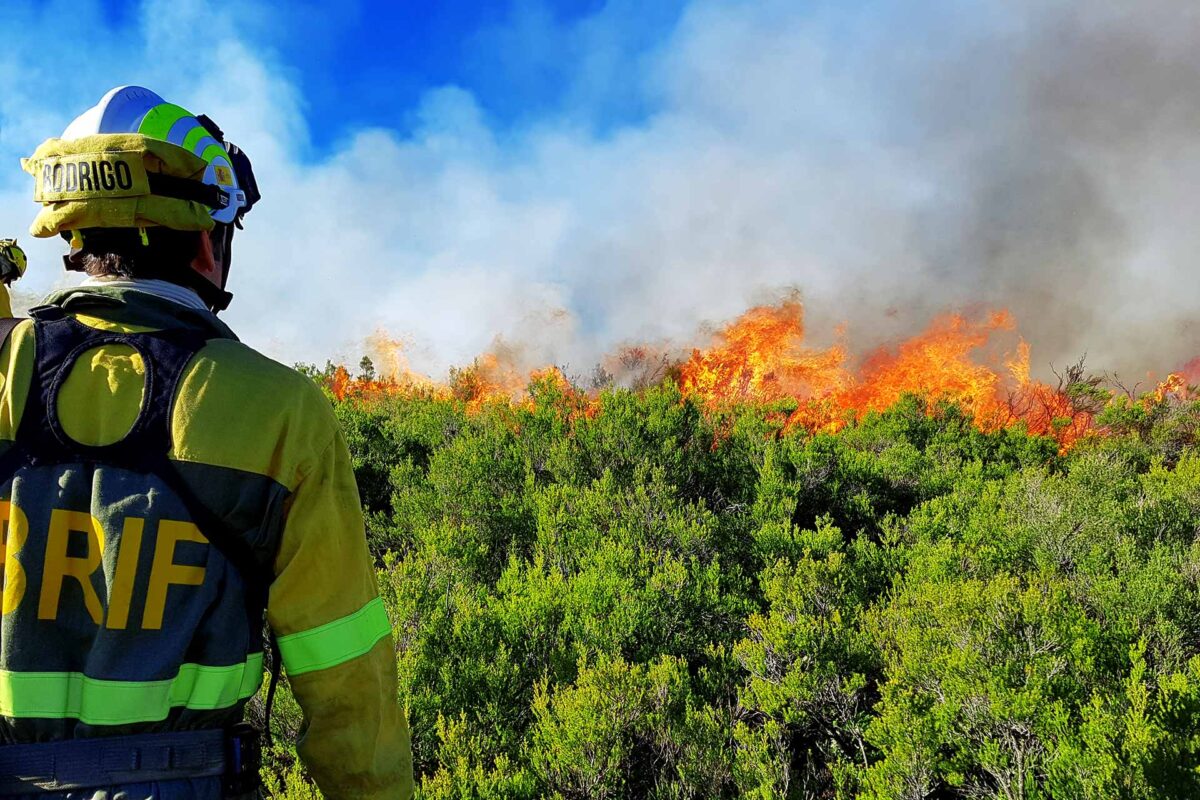 How do forest fires start?
In Europe the causes of fires could not be found in 19% of the cases. Forest fires always start by one of two ways – naturally caused or human caused. Natural fires are generally started by lightning, with a very small percentage started by spontaneous combustion of dry fuel such as sawdust and leaves. On the other hand, human-caused fires can be due to any number of reasons. About 60% of the fires are caused by humans but in most cases the fires are not caused deliberately.
The large majority of wildfires in Europe are ignited by humans, either accidently or intentionally. However, climatic factors and the availability of fuel determine the conditions under which fires occur and spread, once ignition has occurred. The extreme fire episodes and devastating fire seasons of recent years in Europe were, in most cases, driven by severe fire weather conditions. Thus, climate change is expected to have a strong impact on forest fire regimes in Europe.
Fuel, Heat and Oxygen
Fire arises out of three ingredients: fuel, heat and oxygen. This is the so-called "fire triangle". Oxygen is readily available in the air, so that leaves fuel and heat. The fuel is anything that will burn, including brush, grass, trees and even houses. The dryer the fuel, the more easily it burns. And the last component – heat – burns the fuel and desiccates, or dries up, the surrounding area as the fire spreads. However, ignition is only the beginning. For a spark to grow into a sustained wildfire, there must be a perfect combination of factors, such as "dry conditions and really strong winds.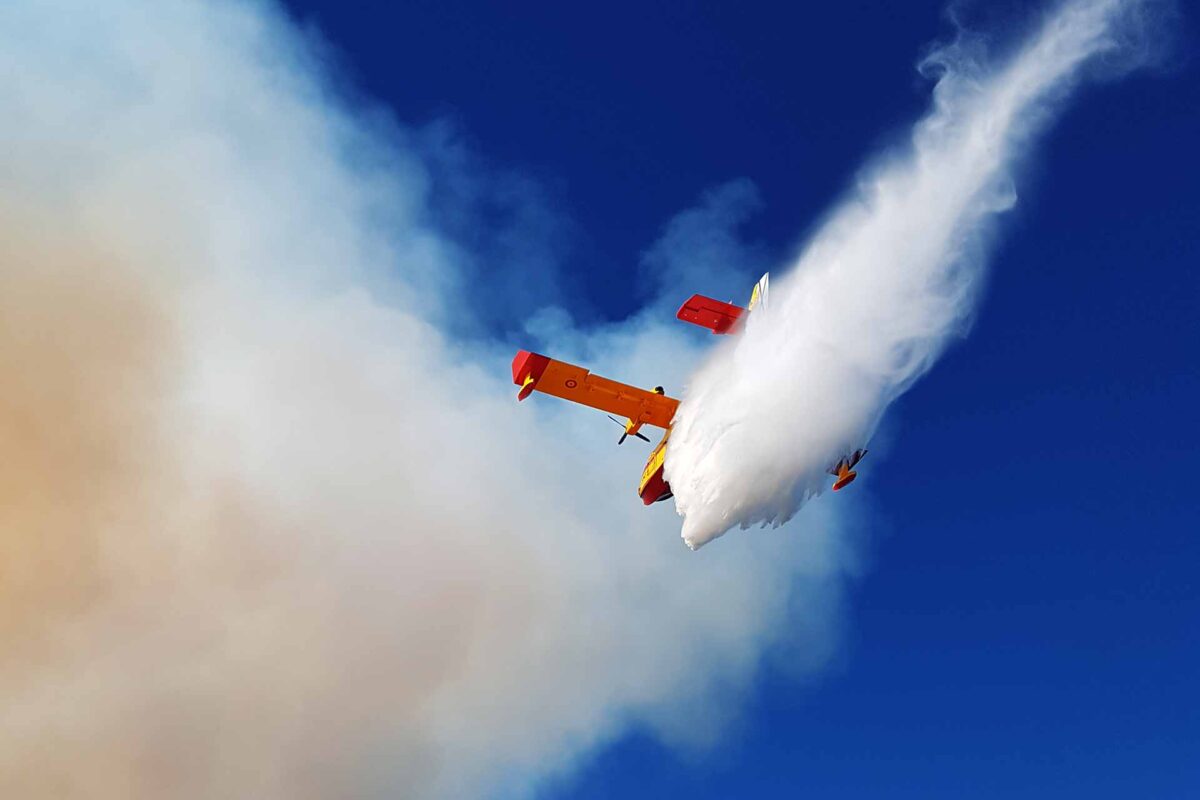 Forest Fires danger extreme in Europe
Forest fires are uncontrolled fires that occur in nature, often rendered more severe by climatic conditions. Long, dry spells increase the risk of forest fires breaking out. Weather conditions, such as rain and wind, vegetation, the layout of the terrain as well as forest management practices are factors that have a huge bearing on the scale of forest fires. In 2019, forest fires severely affected the Amazon, Australia and even the Arctic, in addition to yearly European hotspots, such as the Mediterranean. Lives were lost, livelihoods destroyed and many hectares of land burned.
Forest fires and Climate Change
Fire danger is influenced by weather in the short term, and by climate when considering longer time intervals. In this work, the emphasis is on the direct influence on fire danger of weather and climate.
Around the Mediterranean region, climate change will reduce fuel moisture levels from present values, increasing the weather-driven danger of forest fires. Furthermore, areas exhibiting low moisture will extend further northwards from the Mediterranean, and the current area of high fuel moisture surrounding the Alps will decrease in size. Projected declines in moisture for Mediterranean countries are smaller with mitigation that limits global warming to 2 °C, but a worsening is still predicted compared with present. There is a clear north-south pattern of deep fuel moisture variability across Europe in both climate change scenarios. Areas at moderate danger from forest fires are pushed north to central Europe by climate change.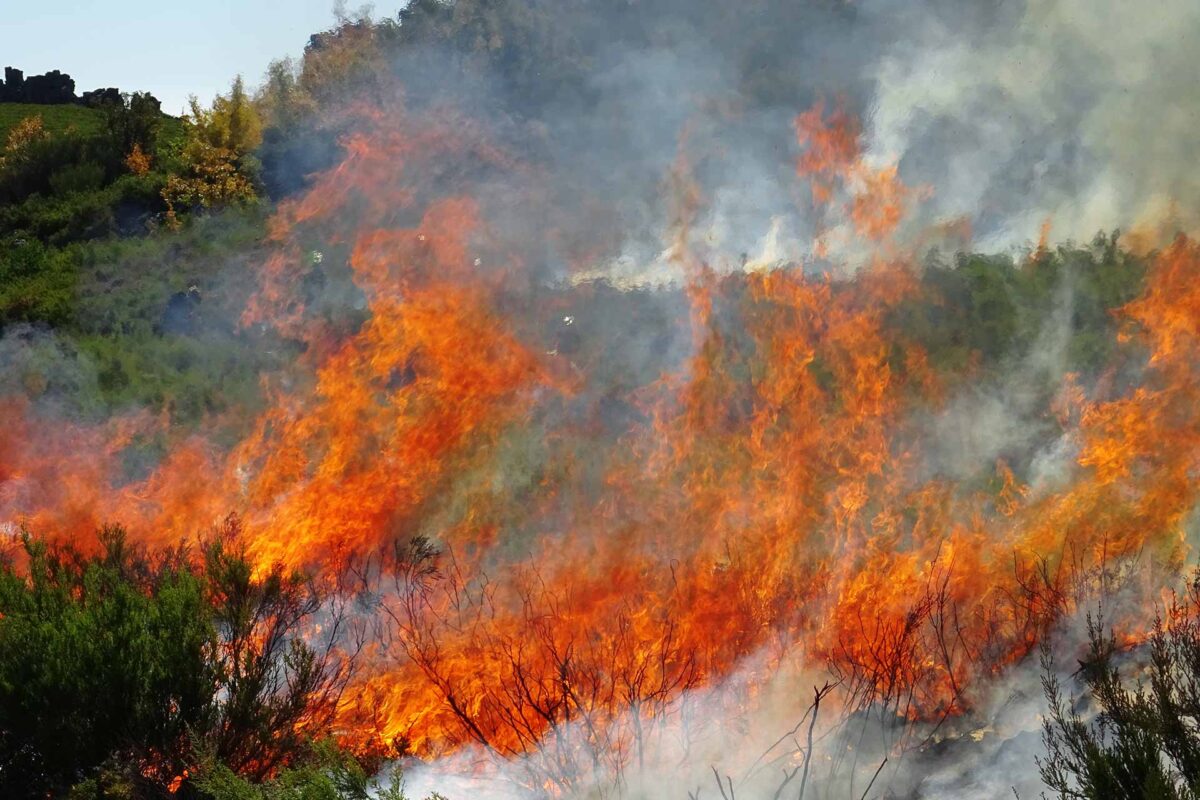 Why is this important?
Forest fires are a significant disturbance agent in many forested landscapes. Frequent and large-scale fires have negative impacts on air and water quality, threaten biodiversity, increase the risks of soil erosion and spoil the aesthetics of a landscape. Forest fires also represent a threat to climate change mitigation, as they release large amounts of greenhouse gases. Furthermore, forest fires can cause large economic damages and losses of human lives if they affect populated areas.
Nevertheless, fires play an essential role in the dynamics of many ecosystems. They are an essential element of forest renewal, they help control insect and disease damage, and they reduce the build up of fuel and thus the intensity of future fires.
Why do forest fires occur?
The fire risk is expected to further increase due to climate change. The risk will be increasingly characterised by massive fires that cost lives and burn areas that take longer to fully recover. Between 2007 and 2019, 30% of all requests for assistance through the EU's Civil Protection Mechanism were in response to forest fires.
When national response capacities are overwhelmed by fire intensity, the State can activate the EU's Civil Protection Mechanism. Members ask for a coordinated, rapid and effective international response. When fires of such magnitude occur, EU Member States and Participating States regularly show solidarity. EU Member States send assistance in the form of firefighting planes, helicopters, firefighting equipment and teams.
In addition to the response, EU supports and complements prevention and preparedness efforts. These Member States are now focusing on areas where a joint European approach is more effective than separate national actions. These include risk assessments to identify the disaster risks across the EU, encouraging research to promote disaster resilience and reinforcing early warning tools.
Prevention, preparedness and response work hand in hand to save human lives and limit the further spread of fires. Having experienced forest fire experts, well-trained firefighters, technology and other assets available near the location of action makes a difference. While the National and regional authorities of these States manage forest fire prevention, preparedness and response activities.
rescEU Firefighting
To prepare for the risk of forest fires during the upcoming summer, the EU is further reinforcing its European fleet of firefighting aircraft under the rescEU system. The EU is financing purchases by the Swedish government of 2 new firefighting airplanes to add to the reserve. This adds up to a total of 13 airplanes and 6 helicopters. All these will be part of the EU-funded rescEU fleet in 2020.
Forest fires can hit at any time and climate change has broadened their range across Europe. We need to be ready this summer.
Janez Lenarčič, Commissioner for Crisis Management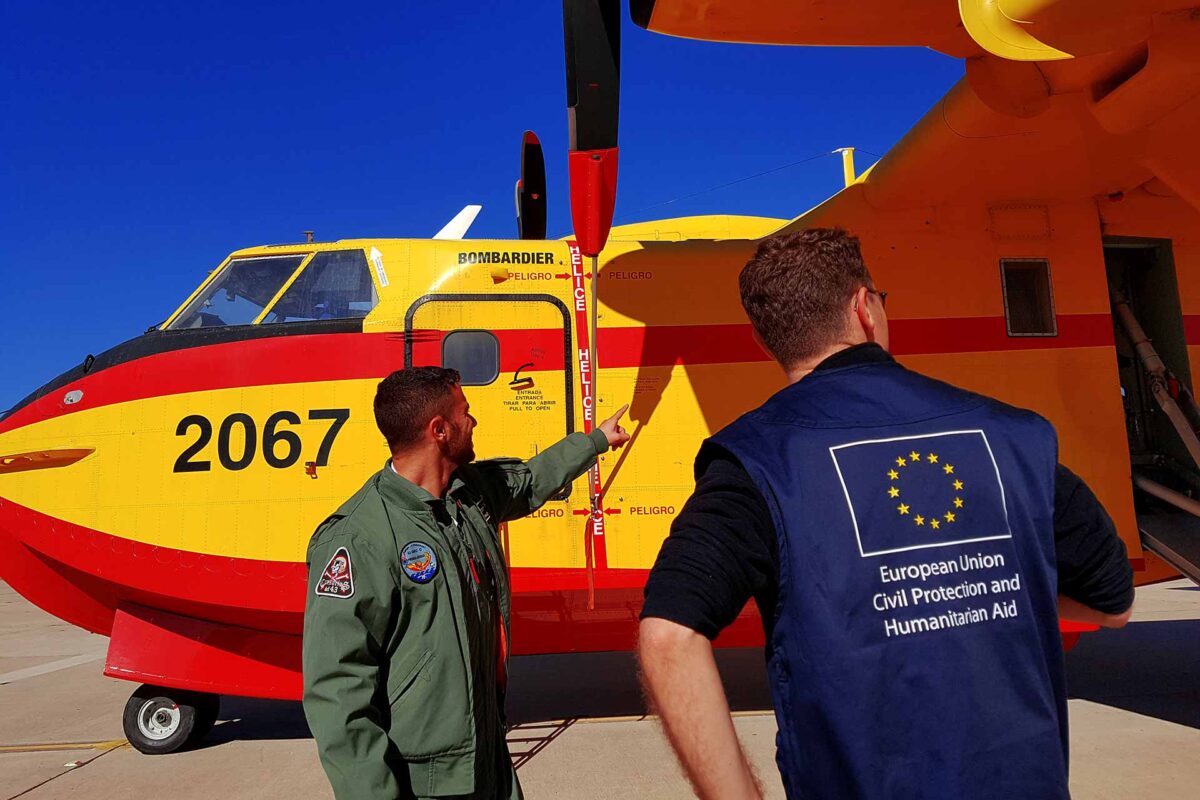 rescEU Firefighting capacities
The EU is funding 7 EU Member States for pooling their airplanes and helicopters in the 2020 rescEU firefighting fleet, readily deployable to other countries in times of need.
The rescEU firefighting reserve consists of: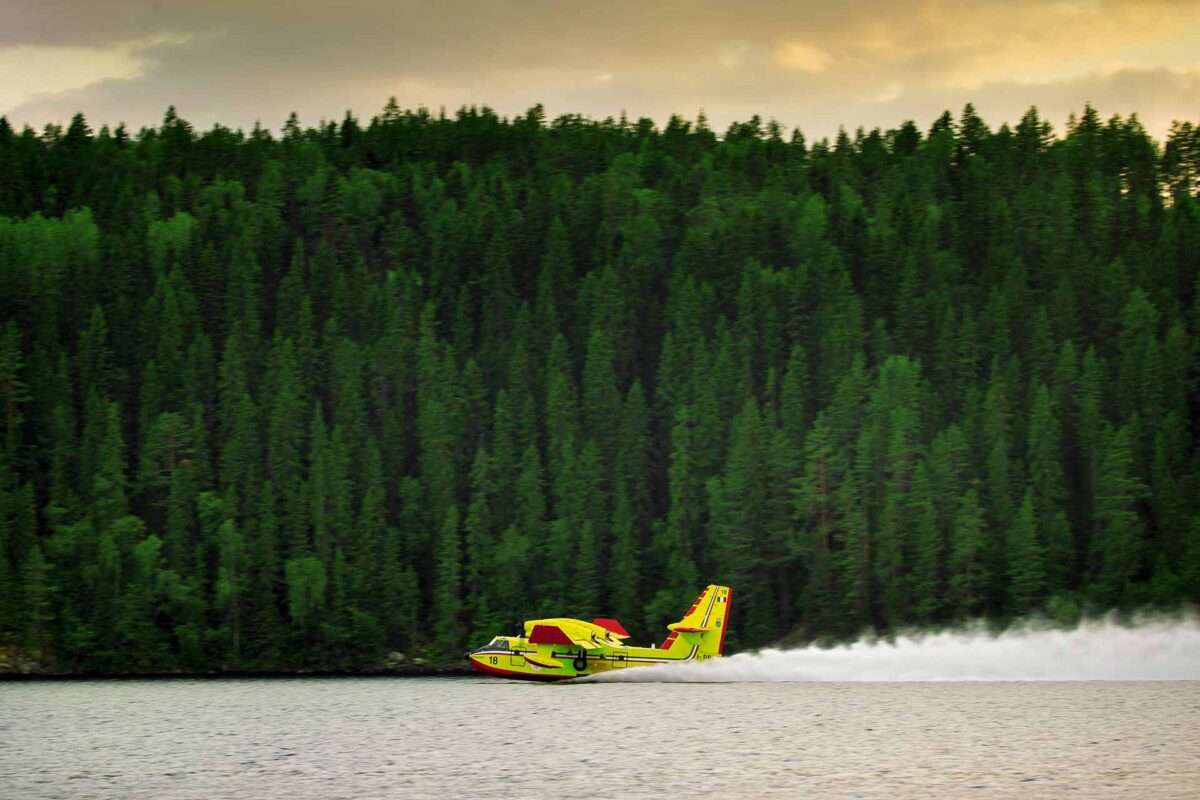 Preparing and monitoring the 2020 forest fire season
The ERCC will monitor fires as they develop and maintain close contact with the authorities of the affected country.
National and European monitoring services and tools such as the European Forest Fire Information System (EFFIS) provide an overview of European data from national forest fire programmes.
Regular meetings with EU Member States and Participating States to the EU Civil Protection Mechanism ahead of and during the season to exchange information on their state of preparedness and fire risks.
The EU's Copernicus emergency satellite mapping service can be activated to map forest fires.
rescEU
The EU's Civil Protection Mechanism was so far based on a system, through which the EU coordinates the voluntary contributions of EU Member States and Participating States to a country that has requested assistance. Offers of assistance are coordinated by the European Emergency Response Coordination Centre (ERCC) based in Brussels.
In recent years, extreme weather conditions and new emerging threats have stretched the ability of Member States to help each other. Several Member States face the same type of disaster simultaneously. In such cases where there is limited or no availability of assets, rescEU steps in to provide additional capacities to confront disasters in Europe.
Forest Fires blight Europe under climate change.
Share this debate with your friends!
Follow #eudebates on Google News and on Facebook