The environmental issues facing our planet are so huge and one person can only do so much. But if you attempt to do a weekly shopping while avoiding plastic packaging, your trolley will look pretty miserable. Honestly it's hard to avoid plastic!
According to Eurostat, on average in the EU, 31kg of plastic waste is produced per person across the EU each year, adding up to 15.8 million tonnes in total. Among the EU Member States, the amount of plastic waste generated per person ranged from 12kg in Croatia to 60kg in Ireland. For all Member States, this amount has increased steadily over the last decade.
Even though Ireland made a statement by being the first EU country to impose a plastic bag fee in 2002, it is remains Europe's worst offender when it comes to annual plastic packaging waste produced per head of the population. In 2016, an average Irish citizen produced 58 kg of plastic packaging waste, ahead of second-placed Luxembourg's 53 kg. Even in Italy where cities like Naples have gained a poor reputation for waste management and pollution, the amount produced is less at 36.5 kg.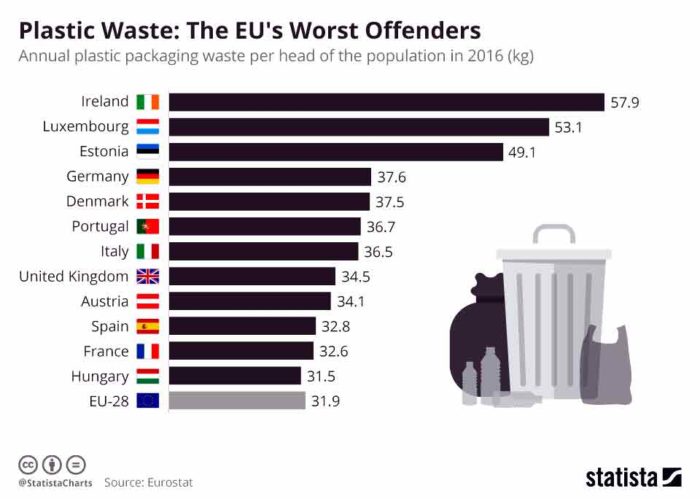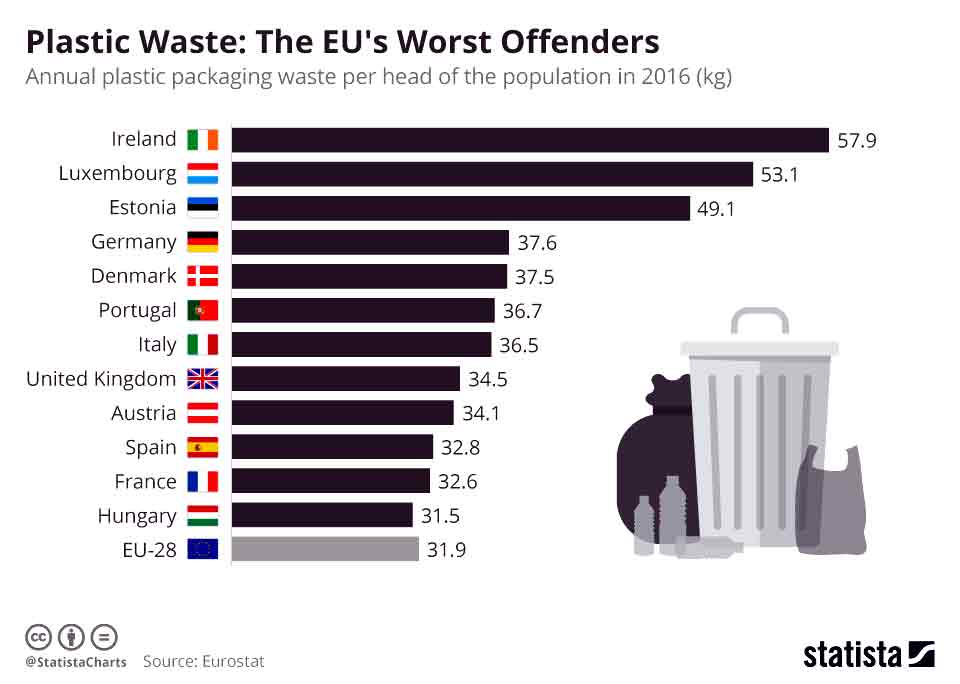 The new guidelines for Ireland are incredibly straighforward – recyclinglistireland. #Paper #Metal #HardPlastics
Is Zero Waste a real goal 

in Europe

?
It's true that the more you "give", the more you get in "return".
There is a coordinated action to curb plastic waste.
European Parliament approved an historic stand against single-use plastic pollution
Proposal passed 571-53. The European parliament has overwhelmingly backed a wide-ranging ban on single-use plastics in an effort to tackle pollution in seas, fields and waterways.
Much plastic waste is washed into the ocean, where it may take centuries to fully degrade. Lightweight single-use items are among the most problematic of plastics because they can easily travel long distances, absorbing toxins along the way that damage marine flora and fauna.
Circular economy
The choices we make, from the products we buy to the recycling we do every day, can have a real impact on the world around us, by reducing our environmental footprint and influencing the decisions of manufacturers, retailers and politicians. Together, we can make a positive impact for a cleaner, healthier future. Around 40% of the plastic waste produced is recycled, with the highest shares found in Slovenia (63%) and the lowest in Finland (24%). Targets for recycling packaging waste, plastic packaging, are included in the EU's action plan for the 'Circular economy'.
Major plastic polluters – big production companies would say that they already pay a tax on plastics! Is it really fair to say or to believe?
It's surprising how much difference one person can make – and if we all do our bit then the impact is amplified many times over.
No matter where you are on your journey, there is a positive environmental impact that you can make.
EU Debates! 

You?
Your opinion counts!
Share this debate with your friends!
Follow #eudebates on Google News and on Facebook