We have just a few COVID free – Green zones in the revised map released by the European Center for Disease Prevention and Control (ECDC). This means that the test positive for Covid-19 is not below 4% in 14 days. The rate of positive cases is more than 25 per 100.000 population.
Europe in RED
Only Crete, Western Macedonia and some Aegean islands in Greece are green. In north Europe, only a small province of southern Norway is also in the "green". The rest of Europe is in the "red".
The ECDC updates the maps every Thursday, in line with the European Council Recommendation to implement a coordinated approach between EU countries to restrict free movement to deal with the pandemic. ECDC does not collect data on Britain, Switzerland, the Balkan countries (other than those that are members of the EU), Ukraine, Belarus and Russia.
Combined indicator and Green Zones: 14-day notification rate, testing rate and test positivity, updated 7 January 2021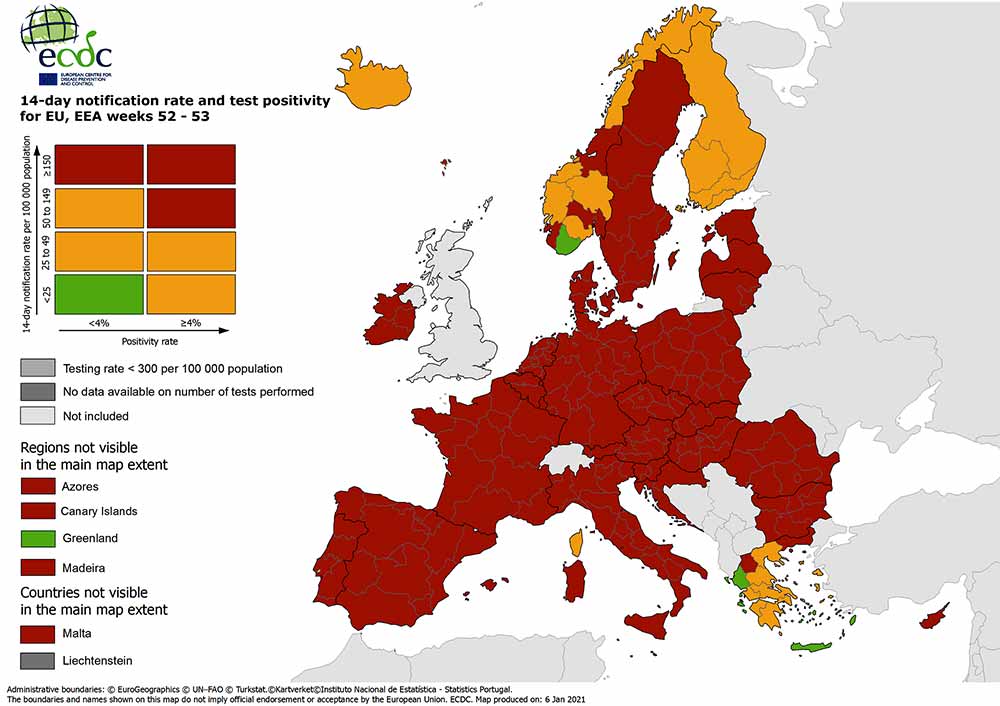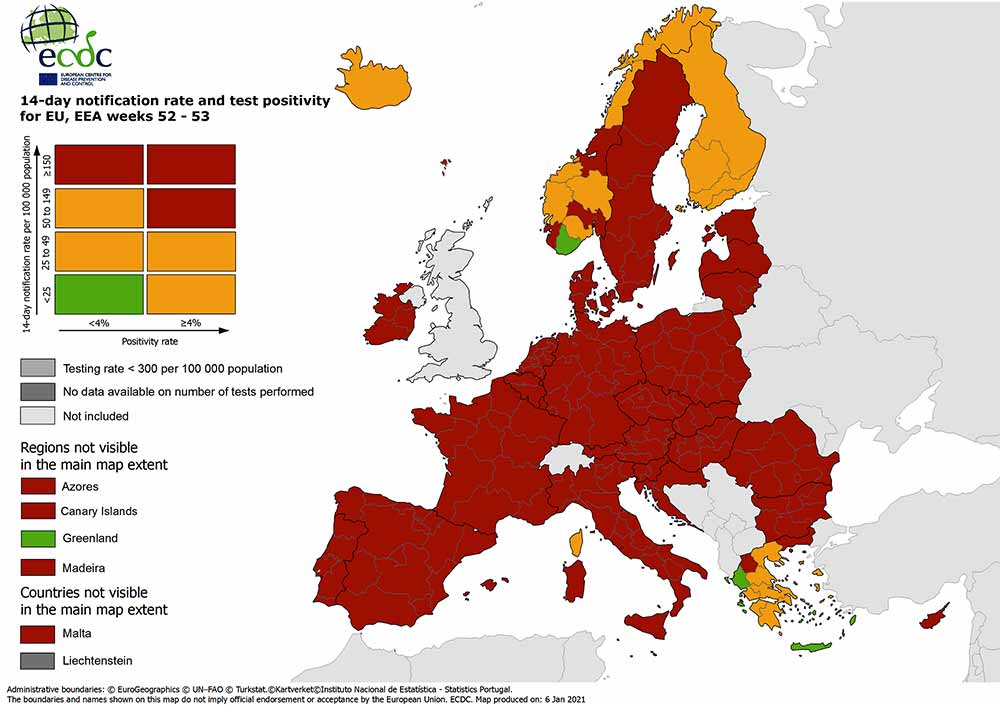 Areas are marked in the following colours:
green if the 14-day notification rate is lower than 25 cases per 100 000 and the test positivity rate below 4%;
orange if the 14-day notification rate is lower than 50 cases per 100 000 but the test positivity rate is 4% or higher or, if the 14-day notification rate is between 25 and 150 cases per 100 000 and the test positivity rate is below 4%;
red if the 14-day notification rate is 50 cases per 100 000 or higher and the test positivity rate is 4% or higher or if the 14-day notification rate is higher than 150 cases per 100 000;
grey if there is insufficient information or if the testing rate is lower than 300 cases per 100 000.
EU transmission rates remain high
After months of continuous increase, the most recent epidemiological data indicate that the number of notified cases has just begun to decrease overall in the EU/EEA and the UK. However, national notification rates show variable trends across countries and transmission rates remain high in most part of Europe.
High levels of transmission are a threat for healthcare capacity due to the increase of healthcare demand and the risk that more healthcare workers might be sick and isolated or quarantined. The bed and ICU occupancy rates are still increasing or remain high in many countries, and further increases may challenge healthcare capacity.
Positivity rates, updated 7 January 2020 – Green Zones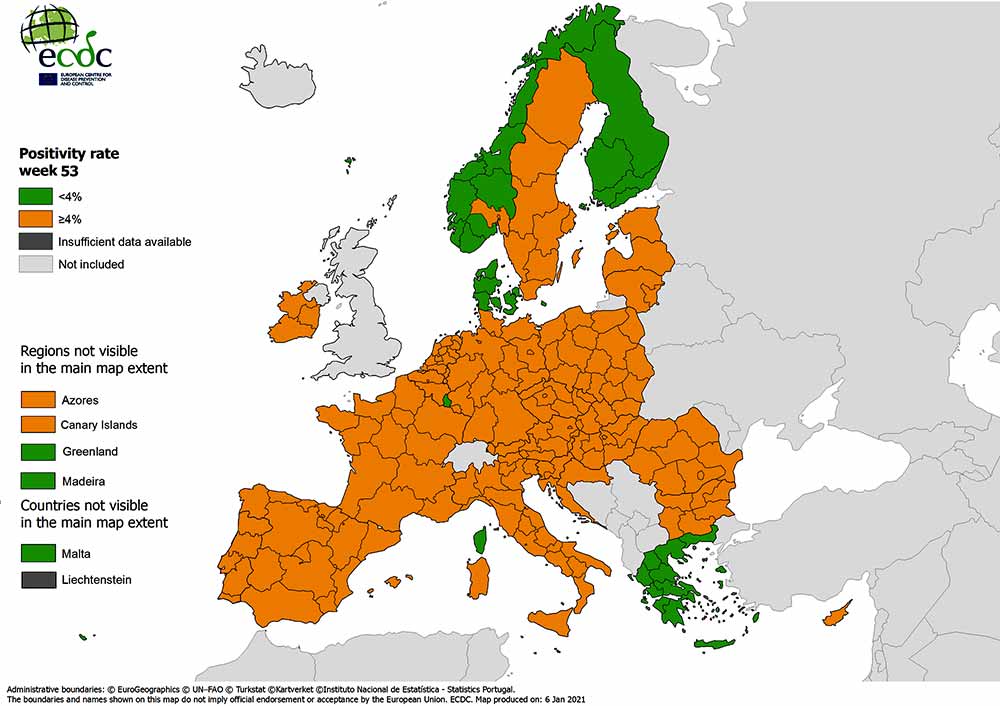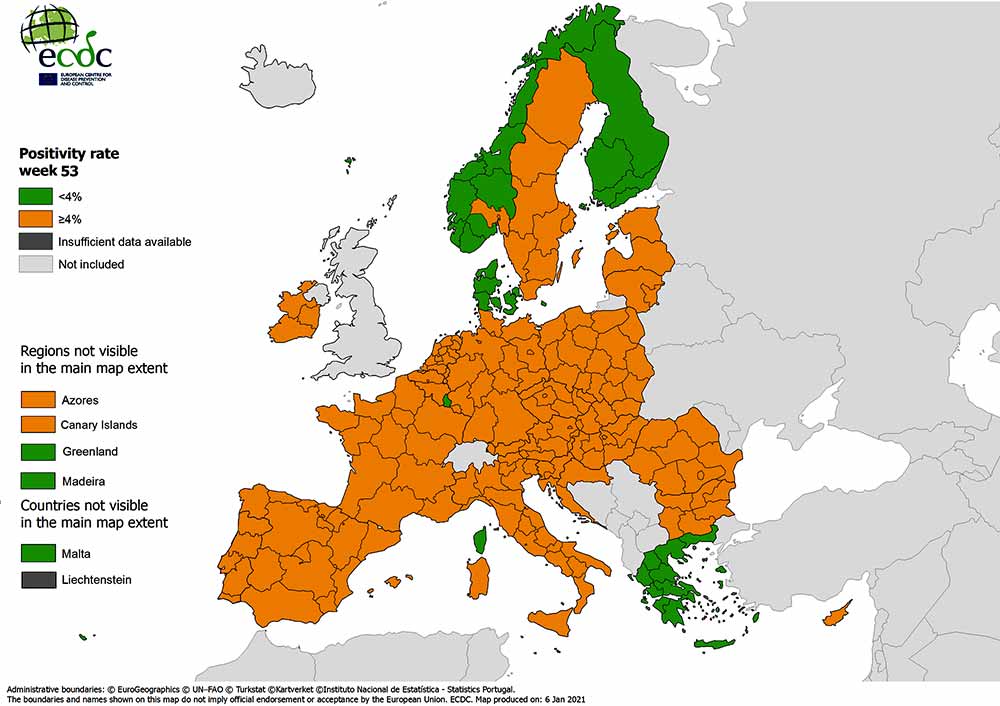 Gatherings and events
Social gatherings and events that are traditionally common during the end-of-the-year season are associated with close contact between people that do not normally meet in day-to-day life. Although the mobility and number of gatherings, events and the number of people participating in them is expected to be lower this year compared with previous years, more mobility and gatherings and consequent mixing of the population, compared with preceding weeks is to be anticipated during the end-of-year festive season, increasing opportunities for transmission.
Gatherings at this time of the year in EU/EEA countries and UK have a higher risk of transmission than at other times of the year, as they are more likely to happen indoors, in less ventilated spaces due to colder outdoor temperatures. Eating and drinking in close proximity without a mask, and often relaxed attitudes and related risk-taking behaviour by individuals are common in a festive context, adding further to the risk of transmission.
Regarding vulnerable populations, festive season gatherings often happen with family or friends from high-risk groups (e.g. older family members, people with co-morbidities). In long-term healthcare facilities, residents and staff may go out and celebrate with family and friends, and the visitor policy may be also relaxed during the end-of-year festive season.
Given the current epidemiological situation and the measures implemented, and anticipating end-of-year festive season gatherings, events, mobility, and reports of fatigue to measures in the EU/EEA and the UK, the risk of transmission of SARS-CoV-2 to the general population is assessed as high. For vulnerable individuals, including the elderly and people with underlying medical conditions, the risk is very high.
eudebates COVID free – Green zones in Europe
Share this debate with your friends!
Follow #eudebates on Google News and on Facebook