An advert promoting the use of cycle helmets in Germany has sparked a sexism row since it features a woman dressed in her underwear. It is an ambitious attempt by the German transport ministry to get younger cyclists to embrace head protection.
The campaign uses an English slogan:
Looks like shit.
But saves my life.
It shows a woman – from Germany's Next Top Model – wearing a cycle helmet and a bra.
According to Germany's Road Safety Association (DVR), 430 cyclists were killed on Germany's streets last year – 14% more than in 2017. Only 8% of the target age group wear helmets, the DVR says.
#HelmerettenLeben
??‍♂️‼️⛑️Diskussion über #Fahrradhelm-Aktion: DVR-Hauptgeschäftsführer Christian Kellner nimmt Stellung –> https://t.co/CzCphQ8nXc @BMVI @BILD #HelmerettenLeben pic.twitter.com/FW3Mm71GTo

— DVR (@DVR_info) March 24, 2019
The advertising campaign was schedulled to be launched today, but the women's wing of the SPD political party have urged transport minister Andreas Scheuer to cancel it.
It is embarrassing, stupid and sexist for the transport minister to be selling his policies using naked skin. Maria Noichl – SPD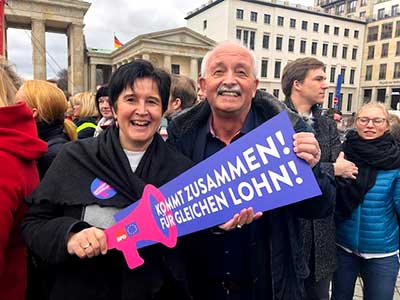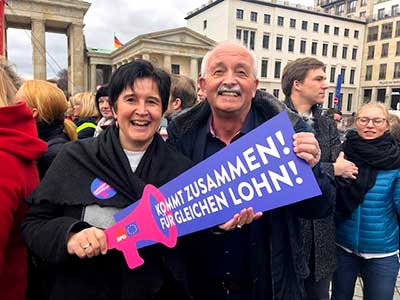 Germany's family minister, SPD member Franziska Giffey, also called on the transport minister to halt the campaign.
She posted a photo of herself with her bike and a helmet on Facebook with a caption that read: "Dear Andreas Scheuer: fully dressed also goes well with a helmet!"

Mr Andreas Scheuer, whose conservative CSU governs in coalition with the Social Democrats and Chancellor Angela Merkel's CDU, appears unfazed.
Is the naked skin … stupid and sexist?
Do you like the Helmet safety Ad?
Debating the naked skin beauty in advertising!
Share this debate with your friends!
Follow #eudebates on Google News and on Facebook