WikiLeaks case: Julian Assange questioned by Swedish prosecutors for second day over rape allegations.
He has refused to travel to Sweden for questioning, fearing he could be extradited over WikiLeaks' explosive release of 500,000 US secret military files on the wars in Afghanistan and Iraq.
WikiLeaks founder Julian Assange has found a surprising ally – a little known United Nations panel that has decided he has been unfairly detained in Britain while seeking to avoid extradition to Sweden to answer allegations of sexual misconduct.
WikiLeaks
It's not clear if the findings of the five members of the UN Working Group on Arbitrary Detention, to be officially announced in Geneva Friday, will lead to a change in Assange's legal status.
Assange has been holed up inside the Ecuadorean Embassy in London for more than three years, and as things stand now he still faces arrest if he steps outside.
Swedish officials said on Thursday the UN panel report concludes Assange has been a victim of an "arbitrary detention," apparently because he has been unable to leave the embassy without fear of being immediately taken into custody by British police armed with a European arrest warrant.
British and Swedish officials have indicated they will not be swayed by the UN panel's report, which is not binding and has no legal authority.
WikiLeaks case by the numbers!!!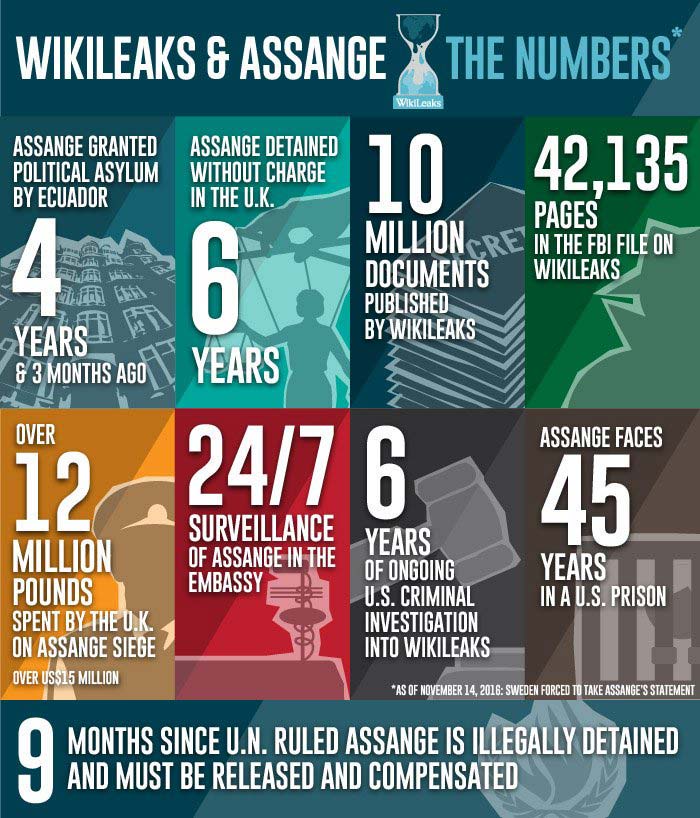 Jennifer Robinson, a lawyer representing Assange, said if the UN panel ruled in his favour, the UK and Sweden had an obligation to take positive steps towards resolving the situation. And if they failed to do so, "they will be in breach of that obligation."
British police also accuse Assange of jumping bail.
– Jennifer Robinson / Lawyer representing Assange
"If it is in our favour, and in Julian's favour, and he is found to be arbitrarily detained, which is what we have now come to expect, that is an unlawful status as a matter of international law and it would mean that UK and Sweden have obligation to positive steps towards resolving this situation. And if they fail to do that, they will be in breach of that obligation.
WikiLeaks
Well, he (referring to Julian Assange) has been granted the right to asylum by Ecuador. The UK and Sweden haverefused to recognise that right to date. They are required to as a matter of international law to recognise the grant of asylum by another state. Unless and until the US drops their investigation, which is the basis for that grant of asylum, and gives assurances that he will not be extradited or he is given safe passage to Ecuador where he can enjoy that asylum, it is not safe for him to leave the embassy. And so it will be a matter of discussion between the Ecuadorian and the UK governments as how to resolve the matter once the decision is handed down.
Obviously this is the news we have been waiting for a very long time – we submitted this application 16 months ago. We have been complaining about the state of his detention for a number of years now. I was with him when we walked into the police station five years ago in circumstances where we were offering his testimonies when there was no need for a arrest form. We are obviously thrilled if the outcome is as what we hope it would be tomorrow that UN will rules in our favour. And we hope, and we expect that this will be implemented as soon as possible."
"Capable, generous men do not create victims, they nurture victims."

Julian Assange
EU Debates! You?
Your opinion counts!
Share this debate with your friends!
Follow #eudebates on Google News and on Facebook