Since last Friday, Turkey "opened its doors" for refugees and migrants to leave for the European Union. Thousands have massed at the Greek borders. President Tayyip Erdogan warns of new migrants wave in Europe. Turkey plans to resettle 1 million refugees in northern Syria and they need support.
EU Top leaders of the European Commission, Parliament and Council visited Greece and sent a strong message to Erdogan. EU Presidents told Erdogan: Europe will stay united. European Union will not be blackmailed.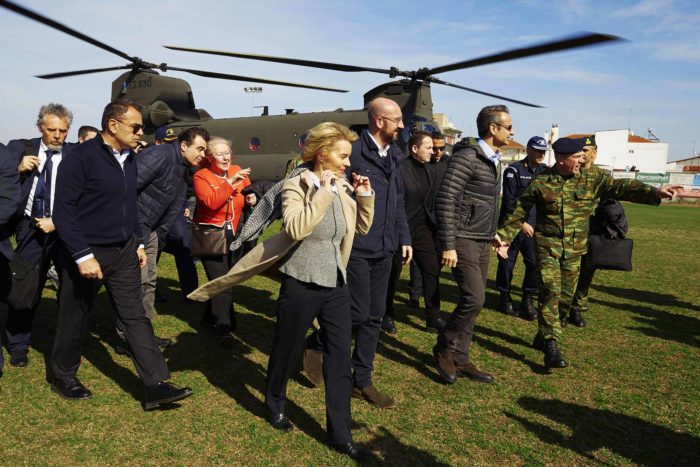 Those who seek to test Europe's unity will be disappointed. We will hold the line and our unity will prevail.
Ursula von der Leyen – President of the European Commission
EU Borders control 
Following Greece's request, Frontex is now getting ready to deploy a Rapid Border Intervention Team. Frontex is preparing the deployment of one offshore patrol vessel and six coastal patrol vessels, two helicopters, one aircraft, and three thermo-vision vehicles. 100 EU border guards in addition to the current 530 EU border guards will be deployed by Frontex at the land and at the EU sea borders.
Secondly, EU will provide financial assistance of EUR 700 million to Greece. This consists of EUR 350 million, which is immediately available, plus an additional EUR 350 million that can be requested as part of an amending budget. The financial assistance is for migration management generally, for setting-up and managing the infrastructure needed.
Thirdly, EU launched the Civil Protection Mechanism based on a request made by Greece. Through this, Greece can receive assistance in terms of medical equipment, medical teams, shelters, tents, blankets, as needed.
Greek Prime Minister Kyriakos Mitsotakis mentioned that the European Union will not be blackmailed. The migrant crisis on Greek EU borders with Turkey is an "asymmetrical threat" to the borders of the European Union.
This is no longer a refugee problem. This is a blatant attempt by Turkey to use desperate people to promote its geopolitical agenda. Unfortunately, Turkey has turned into an official migrant trafficker.
Kyriakos Mitsotakis – PM of Greece
Mitsotakis said the people who tried to enter Greece in the past few days did not come from the war-torn Syrian province of Idlib, but had been living safely in Turkey for a long period of time.
President of the European Council mentioned to Erdogan that "we expect from the Turkish side that they will also respect what they promised in the framework of this agreement [EU-Turkey Statement]. Today, High Representative Borell is in Ankara in order to express our European message, to express a strong European message".
On 18 March 2016, the European Council and Turkey reached an agreement aimed at stopping the flow of irregular migration via Turkey to Europe. According to the EU-Turkey Statement, all new irregular migrants and asylum seekers arriving from Turkey to the Greek islands and whose applications for asylum have been declared inadmissible should be returned to Turkey.
The Greek borders are our European borders.

Our presence sends a strong message.

We trust the Greek government of @PrimeMinisterGR.

Even if the task is very difficult it's important as Europeans to protect our borders and show respect for international law and human rights. pic.twitter.com/ZMglftFSHv

— Charles Michel (@eucopresident) March 3, 2020
Supporting the Syrians under temporary protection and their Turkish hosting communities
Strengthening cooperation to prevent irregular migration
The agreement followed a series of meetings with Turkey since November 2015 dedicated to deepening Turkey-EU relations as well as to strengthening their cooperation on the migration crisis, with notably the EU-Turkey Joint Action Plan activated on 29 November 2015 and the 7 March 2016 EU-Turkey statement. In addition, on 15 December 2015, the Commission proposed a voluntary humanitarian admission scheme for Syrian Refugees in Turkey.
Today the

EU-Turkey

migrant deal is under pressure! 
EU Debates!
Your opinion counts!
Share this debate with your friends!
Follow #eudebates on Google News and on Facebook