Parliament released the second seat projections, based on a cross-section of national polls, for the composition of the next European Parliament.
New seat projections for the next European Parliament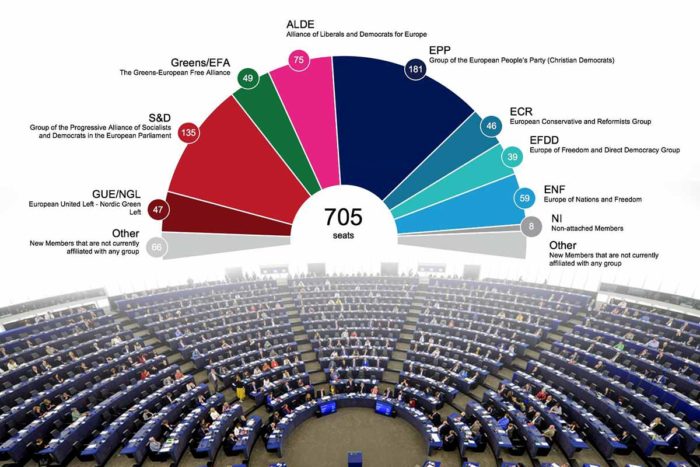 The data is based on a selection of reliable polls conducted by national polling institutes in the Member States and aggregated by Kantar Public on behalf of Parliament.
Parties are only allocated to existing political groups or where they are already affiliated to an associated European political party. All new political parties and movements, which have not yet declared their intentions, are categorised as "other". The next Parliament will have fewer MEPs (705) than the outgoing Parliament (751).
The European Parliament has published this new set of projections showing what the next chamber would look like based on national polling data taken up to the end of February 2019.
The first direct elections to the European Parliament were held 40 years ago on 12 June 1979. This year's elections will be the most important in Parliament's history, given the political context, the envisaged departure of the United Kingdom and major political and cross-border challenges that need to be addressed. Voters will be going to the polls between 23 – 26 May to decide Europe's future.
The Situation of the European People´s Party in the EU and an Outlook on the EP Elections.
Konrad-Adenauer-Stiftung / Olaf Wientzek
Parties belonging to the EPP family are (in national polls) the strongest political family in 13 (+1 compared with the last barometer) countries . The Socialist family is leading in 5 (-1), the Eurosceptic Conservatives in 4 (+2), the Liberal family in 3 (-1). In France and Latvia, unaffiliated movements /parties are stronger than any party family, in Italy the far-right is the strongest political family.
In many countries, the advantage of the leading political family in the opinion polls is very slim (France, Spain, Slovakia, Finland, Belgium, Lithuania. Sweden).
The EPP familiy enjoys a relatively strong support in the opinion polls (above 30%) in Germany, Hungary, Romania, Austria, Croatia, Bulgaria, Slovenia, Portugal, Greece, Ireland, Lithuania, Malta and Cyprus
Outlook on the EP elections in 2019 – Summary
Based on current opinion polls and weighing the different scenarios, the following
seat distribution seems likely:
EPP: 180-185 seats
S&D: 140-150 seats
ALDE (plus Macron): 100-110 seats
Greens/EFA: 50-55 seats
ECR: 55-60 seats
GUE/NGL: 50-60 seats
ENF: 70-80 seats
Potential Five-Star-Movement-group: rather unlikely as they may not meet the target for a group formation (25 MEPs from at least 7 countries), potential: 25-35 seats
EFDD rather unlikely to survive as a parliamentary group (not necessarily due to the numbers but for political reasons)
Debating with Konrad Adenauer Foundation!
EU Debates!
Your opinion counts!
Share this debate with your friends!
Follow #eudebates on Google News and on Facebook