This time more than 50% of EU citizens took part in the elections. This is the highest turnout in 20 years results and the first time since the first direct elections in 1979 that turnout has increased. European Parliament thanks all voters – european citizens for the highest turnout in 20 years!
Votes are still being counted in the European Parliament elections accordinf to European Elections turnout – participation results, which means: Faith in democracy isn't dead yet.
Europe, you voted.
Thank you.
50.5% of EU citizens eligible to vote took part in the European elections, the highest turnout in 20 years. pic.twitter.com/2Z6IJmAih0

— European Parliament (@Europarl_EN) May 26, 2019
The highest numbers in a quarter century!
The new European Parliament will represent your interests for the coming five years.
VOTERS increased in 21 countries, going up more than 10 percentage points in seven. European Elections turnout – participation results: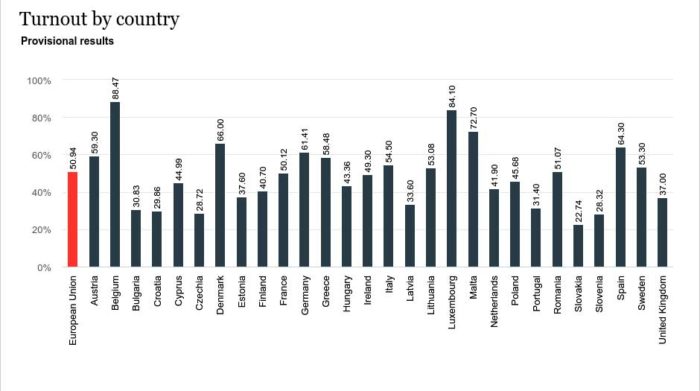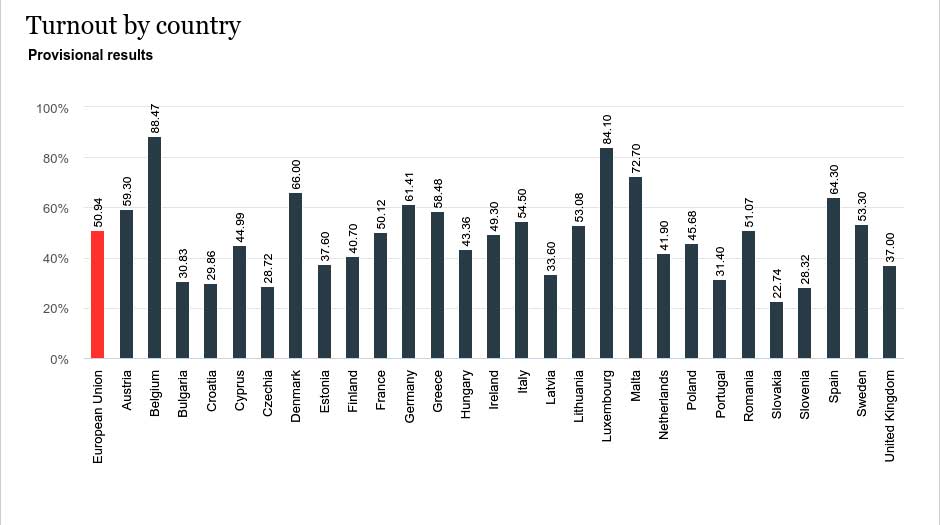 FINAL RESULTS
This new projection is based on:
Final results in seven countries: Croatia, Cyprus, Czechia, Finland, France, Germany, Slovakia
Provisional results in 19 countries: Austria, Belgium, Bulgaria, Denmark, Estonia, Greece, Hungary, Italy, Latvia, Lithuania, Luxemburg, Malta, Netherlands, Poland, Portugal, Romania, Slovenia, Spain, Sweden
National estimates from two countries: Ireland, UK
EU updates the seat projections untill the last – all final results. There you will find national results, seats by political group and country, the breakdown by national parties and political groups, MEPs' gender balance or turnout. You will also be able to compare results, check majorities or upload your widget.
Updated seat projection for new Parliament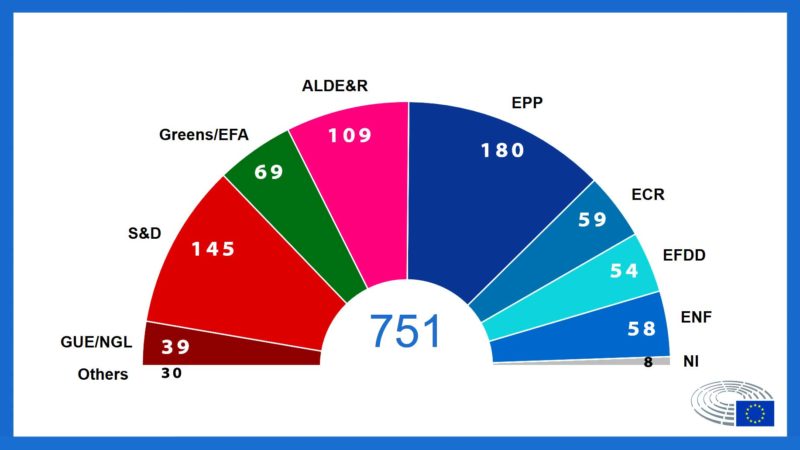 After seeing participation and interest for the 2019 European elections rise, it's now time to finalise political groups and decide on the next European Commission president.
Lead candidates Spitzenkandidaten
The lead candidates is something like the German term spitzenkandidaten. This system was first used in 2014 to select current Commission President Jean-Claude Juncker.
Based on the election results, the lead candidates will now try to form a majority in Parliament to support their bid.
Get Ready for the Spitzenkandidat (German for 'lead candidate') process.
Join the #eudebate
Share this debate with your friends!
Follow #eudebates on Google News and on Facebook