European Parliament released the third set of seat projections, based on a cross-section of national polls, on the composition of the next (9th) European Parliament.
The European Parliament has published a new set of projections on how the next chamber might look, based on polling data published in the EU member states until 26 March 2019. The data is based on a collection of reliable polls conducted by national polling institutes in the member states and aggregated by Kantar Public on behalf of Parliament.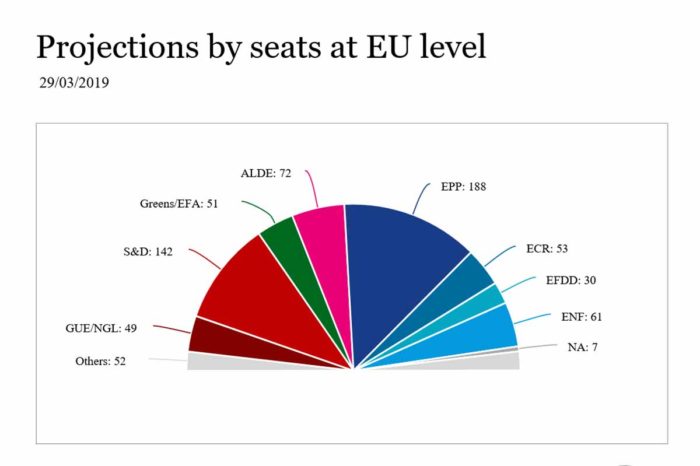 Parties are only allocated to existing political groups or where they are already affiliated to an associated European political party. All new political parties and movements that have not yet declared their intentions are categorised as "other". The next Parliament will have fewer MEPs (705) than the outgoing Parliament (751).
Based on current voting intentions in EU27, this is how seats would be distributed in the next European Parliament.
As we cannot predict the future number and composition of Parliament's political groups, these projections … should be seen as a snapshot of the current political situation.
Kantar Public – EP Public Opinion Monitoring Unit
In many countries, the advantage of the leading political family in the opinion polls is still very slim (France, Spain, Slovakia, Finland, Belgium, Lithuania. Sweden).
In collaboration with Kantar Public, Parliament's Public Opinion Monitoring Unit is allocating projected seats calculated on the basis of voting intentions polls from each member state to Parliament´s currently existing political groups.
Get Ready!
European Elections 23 – 26 May

#EuropeanElections

#euelections2019

#ep2019

Share this debate with your friends!
Follow #eudebates on Google News and on Facebook