Macron vowed to fight the populists when he won the presidential election in May 2017. Beating Marine Le Pen, the leader of France's far-right, Emmanuel Macron presented himself as the new leader of the free world.
Macron was called as a champion of a newly unfashionable multilateralist, globalist vision. He is a former economy minister running as an independent centrist.
When the "gilets jaunes" – "yellow vests" appeared around the country in early November, the government seemed deaf. The protests began as a reaction to an high enviremental tax on gaz fuels but they have rapidly morphed into a much more political protest against Macron.
Today turnout in 'yellow vest' protests is decreasing after May Day clashes and they have shifted their attention away from Paris – the French capital. But the damage is already done. Emmanuel Macron is not the EU leader of the free world and far from putting an end to the populist wave, Macron appears to have overseen its expansion.
The French president, who appeared on electoral victory night to the strains of Beethoven's Ode to Joy, the EU anthem, had ambitious plans for greater EU integration with Germany but most of these have failed to progress.
EU Elections May 2019
Meanwhile, some yellow vests have already decided to go into politics themselves and they are now candidates for the European elections.
France's far-right National Rally (RN)
Marine Le Pen's far-right party is leading voting intentions and outlooks in France.
Marine Le Pen's far-right Rassemblement National (RN) and President Emmanuel Macron's La République en Marche (LREM) are far ahead of all other political parties in opinion polls. Since the start of the yellow vest protests, Le Pen's National Rally (RN) has gained in the polls.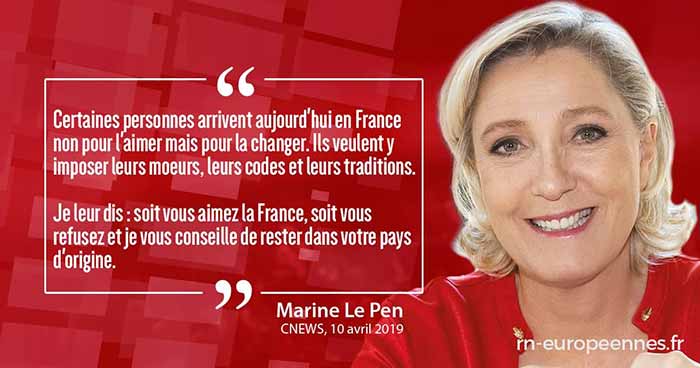 The EU vote has become a referendum for or against Emmanuel Macron's government. I accept that, but under these conditions: if he loses this election, then he must leave
Marine Le Pen
The veteran nationalist, who changed her party's name from Front National to Rassemblement national to shed a brand associated by many with racism and anti-Semitism, is currently basking in high poll numbers and bursting in confidence. Marine Le Pen, running on an anti-immigration, anti-EU ticket, eurosceptic party is expected to make significant gains in the vote but with a narrow margin!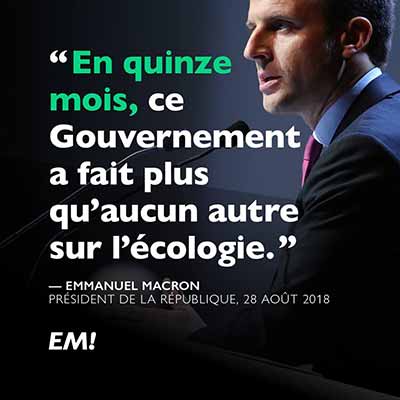 Emmanuel Macron goes green now in bid to overtake far-Right in European elections. Ahead of EU Green Week, President Macron is about to place the environment at the heart of his European election manifesto. He focuses to overtake the far-Right and be the elections Winner.
At the EU summit in the Romanian town Sibiu, the French leader has repeatedly framed the May EU vote as a bitter battle between those who want 'more' Europe and far-right populists determined to upend the political status quo.
With #Renaissance, let's take over the control of our European Destiny.
La République en Marche (LREM)
I am a French patriot and a European. RN party members are nationalists who want the deconstruction of Europe.
Emmanuel Macron
For a European Renaissance
Renaissance is an initiative to rebuild Europe by Emmanuel Macron. It's is the drive to bring together all European progressives against nationalists.
EU elections France turnout
Voter turnout for the European elections has steadily declined since the first elections held in 1979, falling from 60% to 40.63% in France in 2009, before climbing to 42.4% in 2014. The latter was slightly below the European average (42.6%).
Gilets Jaunes
Yellow Vests movement
* The Gilets Jaunes – Yellow Vests movement or Yellow Jackets movement is a populist, grassroots political movement for economic justice that began in France in October 2018. After an online petition posted in May had attracted nearly a million signatures, mass demonstrations began on 17 November.
Macron vs Le Pen

Marine vs Emmanuel
Ready for the

EU VOTE

results in France?
Share this debate with your friends!
Follow #eudebates on Google News and on Facebook