EU Enlargement Commissioner noted from Serbia that major investments are coming in Serbia and Wester Balksns. European Union links economic growth to the COVID-19 recovery plan in order to continue support to the Western Balkans.
An additional €1 billion would ensure the Western Balkan region receive guarantees worth €2 billion.
Verhelyi said that a proposal had been submitted to the EU Council of Ministers and the European Parliament to increase to €14.5 billion funding for the next programs supporting the region:
"I'm also very happy to share with you that we made a proposal when it comes to the Pre-Accession Assistance to raise back to the original proposal of the Commission from 2018 the levels of support. We are suggesting to raise it back to €14.5 billion under the next MFF."
Investments only with reforms
Enlargement Commissioner Oliver Varhelyi said in Belgrade that EU money and investments go only with reforms. Varhelyi mentioned that evident progress had been made but that more had to be done.
"We encourage the new government to implement reforms which have to go in parallel with investments. We attach great importance to rule of law and will have to move forward fast once the government is formed," he said adding that effort should be invested to open new chapters in the pre-accession negotiations with the EU.
Speaking about the Belgrade-Pristina dialogue, Varhelyi said he is only providing support to the EU's top diplomat Josep Borell and his envoy Miroslav Lajcak. "I am here to help Lajcak and Borell but there is still a lot to do and we can achieve results under Lajcak's leadership. If you compare the key elements you will see a lot of similarities between the economic plan and Washington agreement," he said.
The Commission has now accomplished the renewal of the Enlargement policy of the Commission and the European Union by providing the last missing element, which is the Economic and Investment Plan for the entire Western Balkans region.
When this Commission took office, it was its priority from the first day to increase our engagement with Western Balkans. EU aims to engage directly with these countries, not only when it comes to enlargement, but also on how to speed up the reforms and how to speed up the economic catch up with the region.
The EU Commission's report overall notes positive developments on the economy and on Serbia's alignment with EU legislation in different sectors. Before the crisis, Serbia was performing strongly in economic growth terms. The COVID-19 pandemic unfortunately impacted negatively on productivity and employment. However, your government's comprehensive financial package for the private sector has helped mitigate these effects. As a next step, Serbia needs to reinforce its efforts to bring about long-term structural reforms. The reforms focus in particular on public administration and state owned enterprises.
If I look at the figures, I see that only from intensifying the economic cooperation within the region we can boost the economy by 7% of their GDP.
Olivér Várhelyi, EU Enlargement Commissioner
EU has a new Western Balkans Guarantee Facility, which should further enhance investment capacity in the region. It should also mobilise up to €20 billion in public and private investments. This, all together should bring about at least €28 billion in terms of investment to the region. EU is talking more or less about 30% of the GDP of the entire region. EU expects at least 3.6% of GDP growth coming out of this plan only.
The whole plan is based on a regional approach. Regional approach meaning regional participation, regional impact and regional contribution. Everything that you see in EU flagships will be defined on a regional scale and on a regional basis and this should bring together the region.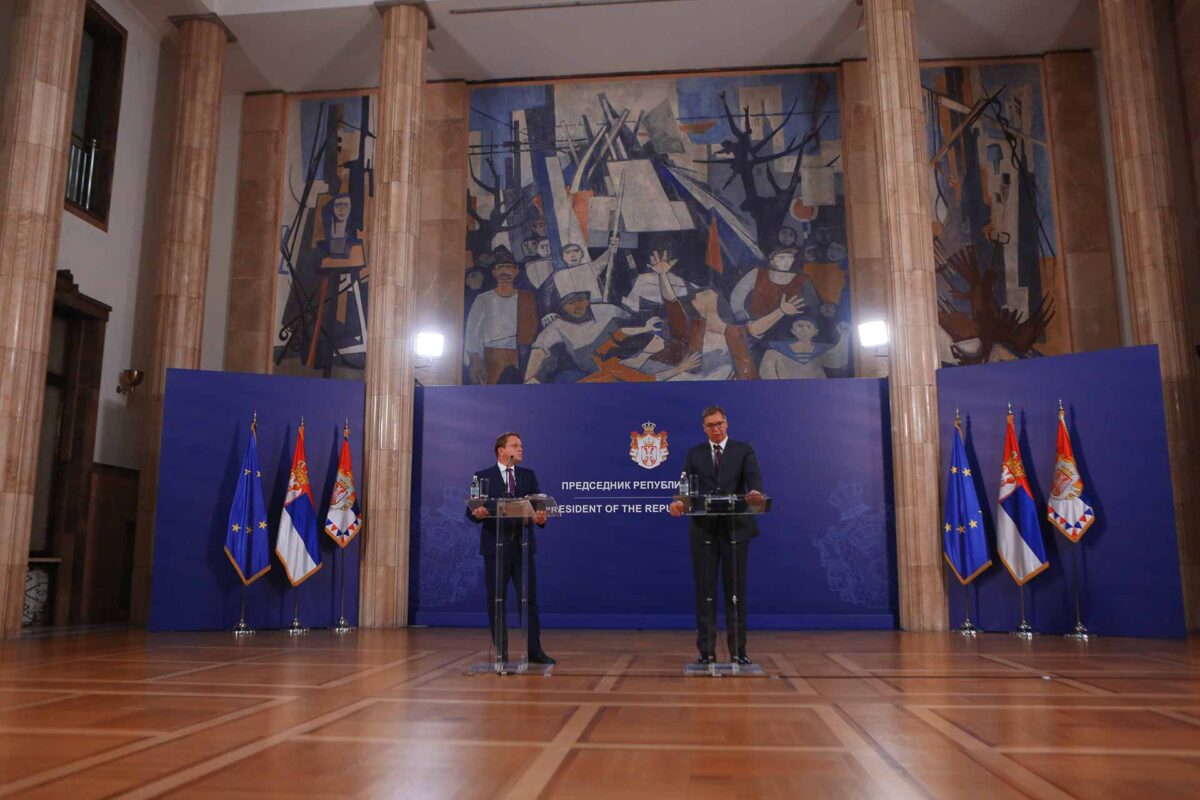 Vucic accepts responsibility for claims for Serbia in EC report
Serbian President Aleksandar Vucic accepts responsibility for the steps he took during the coronavirus pandemic. "There are some good things, there is criticism of me saying that I used my position as president and won votes from my party list of candidates and I will answer it when the time comes but I have accepted responsibility and I am prepared to face the consequences," he told a joint news conference.
"The list of my sins is long and I accept them. I insist on cooperation with Russia and China, I said no one should do anything to the protesters before they take over an institution, they don't have to write that down I accept it and now I'm going to get drones from a problematic country," Vucic said.
During a meeting with representatives of the National Convention on the EU platform of NGO-s, on Oct.8, Varhelyi said that the EU's new investment plan would secure sustainable economic growth, the region's advance on the European path and its approach to the Union's common market.
Prime Minister Ana Brnabic told Varhelyi in a separate meeting that the new government's priority is to continue reforms, adding that EU membership is the country's key foreign policy goal.
Progress in Serbia – Kosovo dialogue will continue
Speaking at a news conference after the meeting with Varhelyi, Kosovo Prime Minister Avdullah Hoti said that Kosovo and Serbia will go on as two neighboring countries that do not recognize each other unless a final agreement is reached. He echoed the commissioner's view that progress has been achieved but added that solutions have to be found to difficult issues that are preventing an agreement from being reached.
Varhelyi said that they agreed on a second phase of the European Reform Agenda in Kosovo to reinforce reforms in rule of law, increase competitiveness and ensure a successful economic recovery.
Share this debate with your friends!
Follow #eudebates on Google News and on Facebook