Sergei Lavrov, Russian Foreign Minister and Josep Borrell Fontelles gave a joint press conference in Moscow. EU condemns the arrest of Navalny and supporters but keeps debating Russian ties.
On 2 February, a Moscow court sentenced the Russian opposition politician Alexei Navalny to two years and eight months' imprisonment. The Russian authorities have pursued his sentencing for the alleged violation of his probation while Mr. Navalny was recovering in Germany from an assassination attempt by poisoning suffered in the Russian Federation by a military chemical agent.
The European Court of Human Rights had already determined, in its 2017 judgement, that Mr. Navalny's conviction was arbitrary and manifestly unreasonable. The European Union condemns the Russian authorities' decision to sentence Mr. Navalny and considers it unacceptable as it is politically motivated and runs counter to Russia's international human rights obligations.
The European Union has consistently called upon the Russian authorities to uphold their national and international obligations to respect and ensure human rights and equality before the law, including the right to a fair trial. The EU reiterates its call for the immediate and unconditional release of Mr. Navalny, as well as all those citizens and journalists who have been detained for exercising their rights to peaceful assembly and freedom of expression. These developments confirm a continuous negative pattern of shrinking space for the opposition, civil society and independent voices in the Russian Federation.
The European Union will revert to the issue at the upcoming Foreign Affairs Council and discuss its implications and possible further action.
Remarks by High Representative / Vice-President Josep Borrell at the joint press conference with Foreign Minister Sergei Lavrov
Thank you Minister [for Foreign Affairs of Russia, Sergei Lavrov] Lavrov for your invitation and for the opportunity to have a frank and open discussion. It has been an intense discussion and is still not finished. We will continue talking about other issues after this press conference.
The purpose of my visit today is to discuss the challenges we are facing, including issues where our views diverge and to listen to each other's concerns.
We have to recognise that, over the last years, our relations have been marked by fundamental differences and a lack of trust. We are seeing each other more as a competitor or rival, rather than a partner.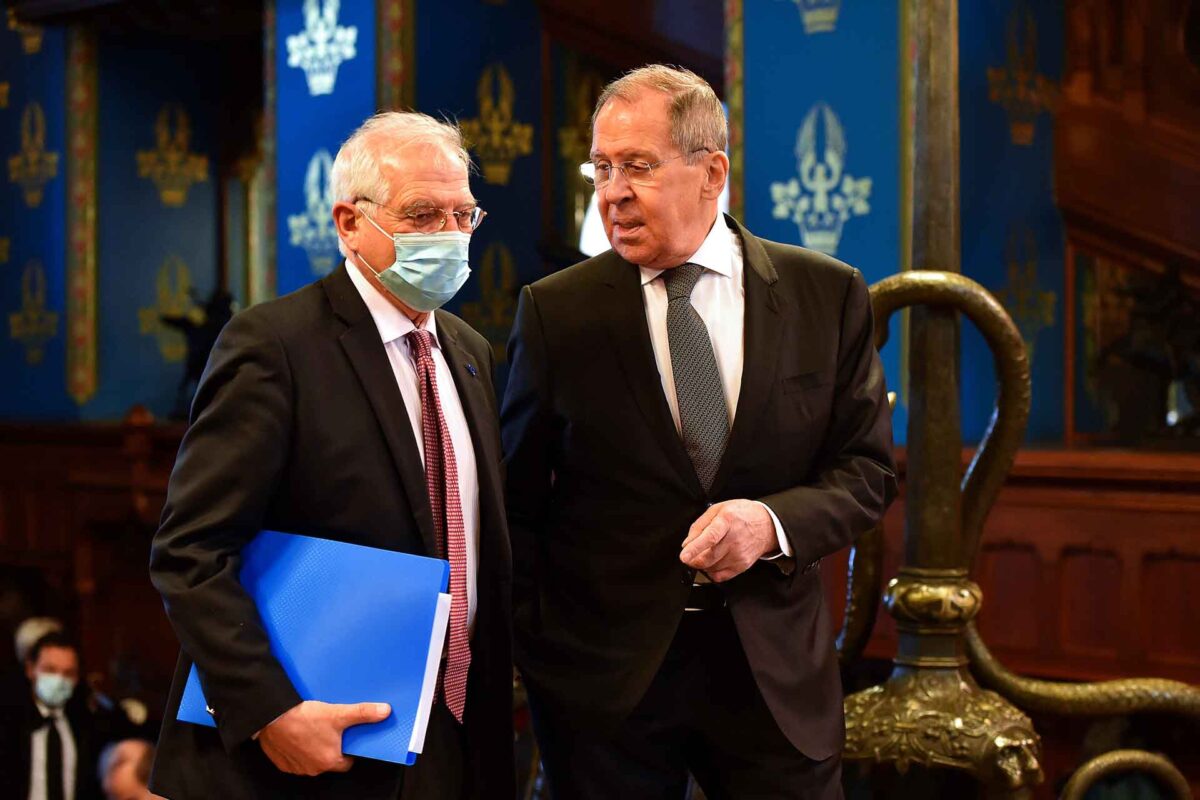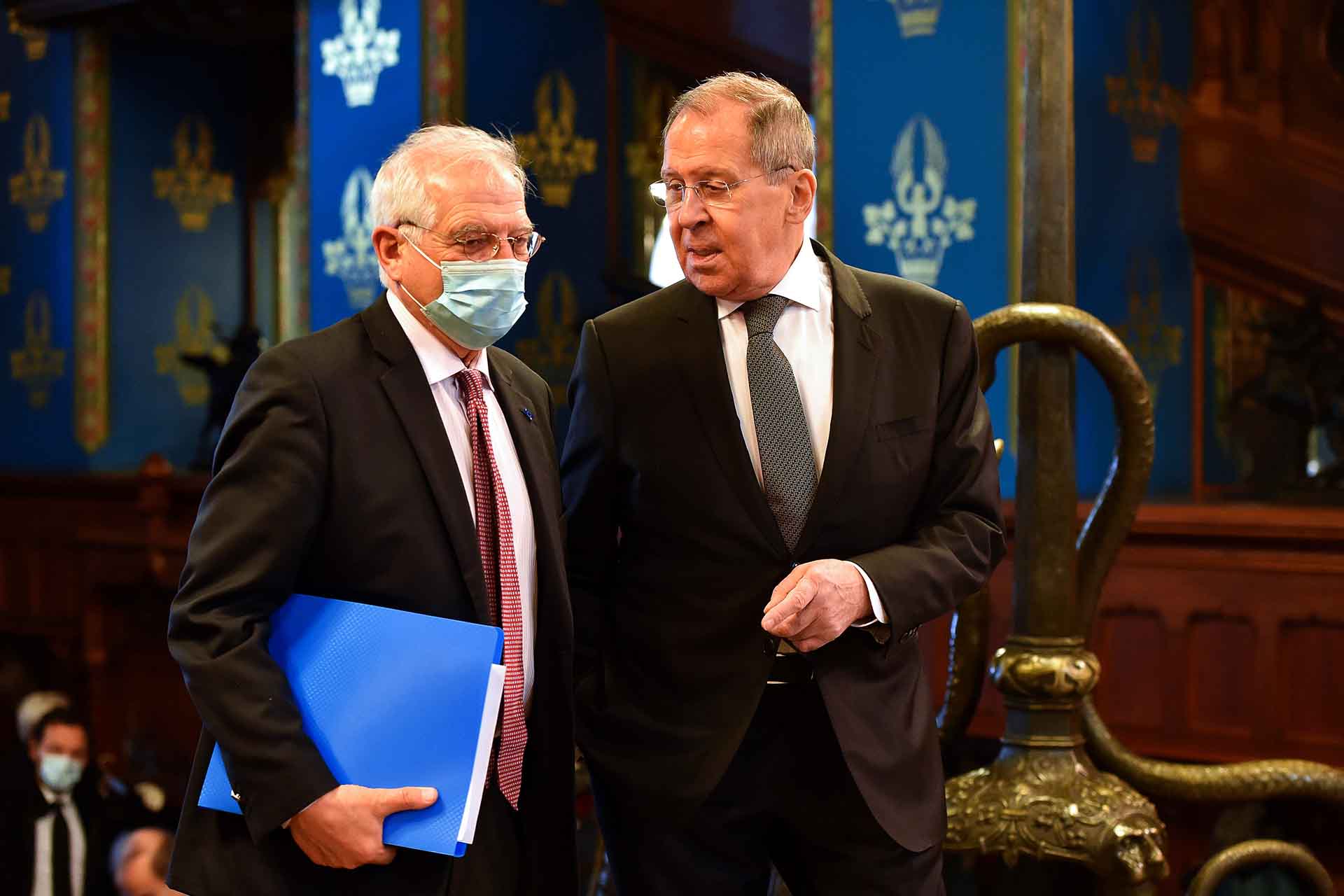 And yet, the European Union is Russia's first trading partner. The European Union is Russia's greatest source of foreign direct investment.
Russian students are among the largest group of beneficiaries of the Erasmus Plus programme and university exchanges. And most of the European Union Schengen visas are issued to Russian citizens.
Russia is our biggest neighbour; it is part of Europe. Engagement with Russia is therefore of key importance for the European Union.
However, events both at home and abroad make it difficult to have the relationship that we dreamt of in the 1990s, when we talked about a Europe from Lisbon to Vladivostok. This is today much more difficult than 20 or 30 years ago.
My visit coincides with the arrest and sentencing of Alexei Navalny, and the arrest of thousands of demonstrators. As you can expect, I have conveyed to Minister Sergei Lavrov our deep concern and reiterated our appeal for his release and the launch of an impartial investigation over his poisoning.
While we fully respect Russia's sovereignty and its own responsibility regarding the fulfilment of its international commitments, the European Union considers that issues related to the rule of law, human rights, civil society, and political freedom are central to a common future, both for the European Union and Russia.
But at the same time, there are issues on which we can and must work together, because when we do, we achieve good results. The Minister has been mentioning several of them and I subscribe to his words: on culture, on research, on health, on facing COVID-19, on the Arctic, on climate, on digital – we have a lot of things that can be done to deepen engagement from both sides and benefit in a tangible way.
On the international arena, I think that the Minister has made reference to that, there are places and issues on which we can also work together: the Joint Comprehensive Plan of Action (JCPoA) is a good example. On the Middle East Peace Process, we agree on the need to engage in this process, to reinvigorate the Quartet and to try to work together and engage also the new United States administration.
On the green economy, our ambitious Green Deal to fight climate change and environmental challenges will give also a lot of opportunities to cooperate. We count on Russia to make a success of the next Glasgow (UN COP26) conference and to cooperate in order to prepare for the new environment where the consumption of fossil fuels will decrease.
In line with the Helsinki Final Act, stability in Europe must be based on cooperation, respect for the territorial integrity and sovereignty of nations, respect for human rights and fundamental freedoms. And in this framework, we need to find spaces for understanding and to build mutual trust.
This is the purpose of my visit. This is the first step. We will continue to disagree on several things, but we have to look for places in which we can agree and cooperate.
eudebates with Sergei Lavrov
Share this debate with your friends!
Follow #eudebates on Google News and on Facebook