WATCH LIVE WEF Davos 2017. The World Economic Forum and DEBATE on the following topics: Middle-Class Crisis, The Future of Warfare, Forecasting Failure, Cyberattacks, Climate Change, human health, Globalization, Politics of Fear or Rebellion, Sustainable Infrastructure, Business Leadership, Human Rights, Prosperity, Longevity, Divided Times, Strengthening Democracy, Cybercrime, Basic Income, Global Prosperity, Europe's Disunion, Reforms, Energy, Peace, Hubs of Innovation, Fourth Industrial Revolution, The Great American Divide and New Models for Europe.
The Future of Latin America, Iran, Arab World, Brazil, Sweden and Colombia. Ideas with Michael Sandel, Wang Jianlin, Ginni Rometty, Jamie Oliver, Yemi Osinbajo and Jack Ma. Conversation with Karan Johar and Sharmeen Obaid-Chinoy.
WEF Davos 2017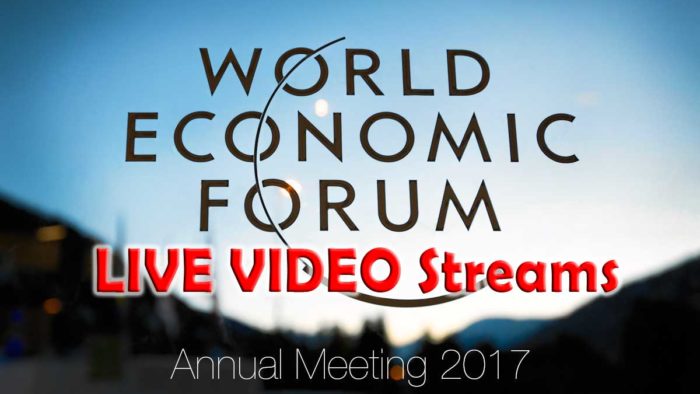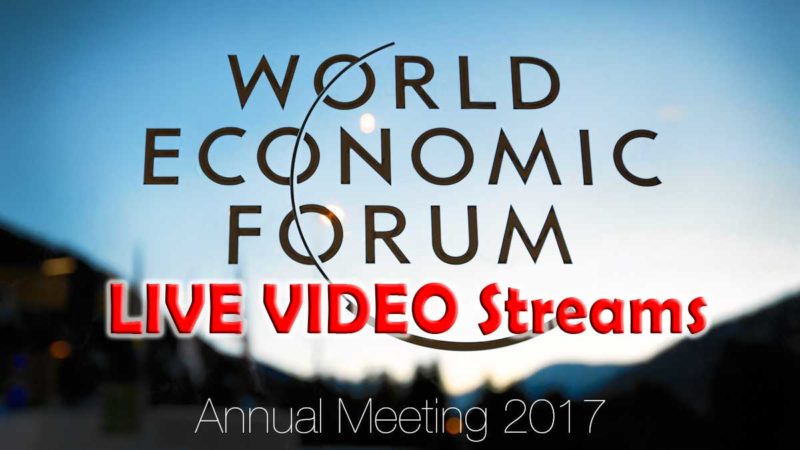 Official 
LIVE VIDEO Streams

 for DAY 03
World Economic Forum 2017

 – 

MORNING SESSIONS
WEF Davos 2017 Today 18/01/2017
Davos Today is the morning news programme for the World Economic Forum. Join Reuters for live discussions with policy makers, top executives and thought leaders from around the globe.
WEF Davos 2017
An Insight, An Idea with Forest Whitaker
A conversation with actor and Crystal Award honouree Forest Whitaker on fostering peace and reconciliation in disadvantaged and fragile communities around the globe
Speakers:Forest Whitaker, Zeinab Badawi
WEF Davos 2017
Squeezed and Angry: How to Fix the Middle-Class Crisis
Poor employment prospects and low-income growth in many developed economies have laid the groundwork for the rise of populism. Did policy-makers ignore these trends or do too little to redress them? What can be done to restore growth in the middle class and confidence in the future?
This session was developed in partnership with Bloomberg. Speakers:Francine Lacqua, Ray Dalio, Christine Lagarde, Pier Carlo Padoan, Lawrence H. Summers, Henrique Meirelles.
The Future of Warfare
The Fourth Industrial Revolution is blurring the lines between war and peace and expanding the boundaries of the battlefield to new domains. How can we prepare for a new kind of war? Speakers:Jean-Marie Guéhenno, Shirley Ann Jackson, Sir Lawrence Freedman, Mary Cummings, Jeanine Hennis-Plasschaert
Issue Briefing: Forecasting Failure
With pundits failing to foresee the US election result and Brexit, the strategic importance of big data and social media is greater than ever. What impact will they have on the way elections are fought – and won – in the future? Speakers:Philip Tetlock, Molly Crockett, Michael Hanley
Press Conference: How well are companies prepared to withstand cyberattacks?
The World Economic Forum, in collaboration with its partners , has developed a first-of-its-kind set of principles and tools for corporate oversight boards to tackle cybersecurity and resilience. Speakers:Walter Bohmayr, Mike Nefkens, Georg Schmitt, Derek O'Halloran, Victoria A. Espinel
The Post-Multicultural Era?
Multicultural and assimilation policies of integration are being challenged in this time of cultural divisiveness. How can we build a new social contract that ensures trust between people of varied backgrounds? This session was developed in partnership with Euronews.Speakers:Lonnie Bunch, Elif Shafak, Isabelle Kumar, Brendan Cox, Alexander De Croo
An Insight, An Idea with Michael Sandel
A conversation with philosopher and best-selling author Michael Sandel on the moral predicament of democratic capitalism, and where to go from here. Speakers:Michael Sandel, Gillian R. Tett
Issue Briefing: Climate Change: COP Out?
The year 2015 was one of environmental momentum. Will world leaders still be able to fight the battle against climate change despite the shocks of 2016? Speakers:Jennifer Morgan, Patricia Espinosa Cantellano, Lord Nicholas Stern, Dominic Kailash Nath Waughray
Press Conference: Are we losing the fight for human health?
The growing burden of non-communicable diseases (NCDs) in low and lower middle-income countries has the potential to reverse positive health trends achieved in the last decade. Cardiovascular disease, cancer, chronic respiratory disease, and diabetes, are responsible for 60 percent of all deaths worldwide – 36 million deaths annually. Beyond the human costs, there is an economic cost to these trends. A study conducted for the World Economic Forum estimates that under a "business as usual" scenario, low- and middle-income countries could lose $500 billion per year over the period 2011–2025 due to NCD morbidity and mortality; this equates to roughly 4% of average GDP for these countries.
Improving care and access to medicines is fundamental to changing this picture. Access Accelerated, a collaborative commitment by 22 biopharmaceutical companies and partners, including the World Bank and the Union for International Cancer Control, has the scale and scope to make a difference. By working together to pilot new approaches, and scale what works, more countries will have access to the resources and knowledge needed to reach the ambitious NCD targets for UN Sustainable Development Goal 3 by 2030.
Speakers:Elizabeth Cousens, Cary Adams, Ian C. Read, Georg Schmitt
Special Address by Joe Biden, Vice President of the United States
Speakers:Joseph R. Biden Jr, Klaus Schwab
Governing Globalization
Four out of five jobs lost due to globalization have been sacrificed to technological change rather than trade. What have we learned about globalization to improve its governance?
This session was developed in partnership with Quartz.
Speakers:Stefan Löfven, Dambisa Moyo, Kevin Delaney, Abidali Neemuchwala, Bradford L. Smith
An Insight, An Idea with Wang Jianlin
A conversation with Wang Jianlin, Chairman and Founder of Dalian Wanda Group, on his vision of the role of entertainment and sport for a more diverse, tolerant and understanding society across borders. Speakers:Wang Jianlin, John Micklethwait, David Aikman
Politics of Fear or Rebellion of the Forgotten?
As populism rises across the globe, is it playing on the politics of fear or is it an overdue rebellion of the forgotten? This session was developed in partnership with BBC.
Speakers:Elif Shafak, Zeinab Badawi, Eric I. Cantor, Alexander De Croo
Shaping the Future of Latin America
What priorities are shaping the Latin American agenda in times of change?
Impact of macroeconomic headwinds
Effects of political transformation
Adjusting to new forms of power
Speakers:Horacio Manuel Cartes Jara, Moisés Naím, Angel Gurría, Rebeca Grynspan, Ricardo Hausmann
Press Conference: Investment in Sustainable Infrastructure
The Sustainable Development Investment Partnership (SDIP), an initiative by the World Economic Forum and OECD, has brought together a community of 35 international actors. There is huge potential for public-private collaboration to crowd in private capital that supports sustainable infrastructure in emerging and frontier markets. Speakers:Oliver Cann, Patrick Khulekani Dlamini, Samdech Techo Hun Sen, Keiko Honda
A Compact for Responsible Business Leadership
How can industry leaders restore the compact between business and society, ensuring that companies are responsive and responsible to all their stakeholders? Speakers:Dominic Barton, Frans van Houten, Lubna S. Olayan, Jim Hagemann Snabe, Hiroaki Nakanishi
Issue Briefing: Human Rights in a Multipolar World
The concept of human rights means different things in different parts of the world. As we continue to move towards a multipolar world, how will demographic, cultural and religious considerations impact the way we treat fellow humans? Speakers:Zeid Ra'ad Al Hussein, Salil Shetty, Nicholas Davis
An Insight, An Idea with Ginni Rometty
A conversation with Ginni Rometty, Chairman, President and Chief Executive Officer of IBM, on business transformation in the era of cognitive computing. Speakers:Ginni Rometty, Fareed Zakaria
Iran in the Region and the World
Speakers:Javad Zarif, Mohammad Agha Nahavandian, Philipp Rösler
Prosperity in the Age of Longevity
If living to 100 becomes the norm, how can societies ensure prosperity and inclusivity across generations? This session was developed in partnership with NHK. Speakers:Lynda Gratton, Kenji Kohno, Yasuhiro Sato, William Francis Morneau, David B. Agus
A Conversation with Karan Johar and Sharmeen Obaid-Chinoy
Join a conversation between leading filmmakers Sharmeen Obaid-Chinoy from Pakistan and Karan Johar from India on their journeys as artists in the Indian subcontinent and on the power of film for diplomacy. Speakers:Sharmeen Obaid-Chinoy, Karan Johar
Leading in Divided Times
We are living in an era of social fragmentation, economic disruption and generational and political divides. What can leaders do to prevent conflict and bridge these growing differences? Speakers:Daniel Shapiro, Michaella Rugwizangoga, Peter Maurer, Amre Moussa, Pier Carlo Padoan, Vitaliy Klitschko
Strengthening Democracy
The people's voice and political participation are key to the concept of democracy. How can citizens be engaged in the political process to restrengthen democracy? This session was developed in partnership with Swiss Television. Speakers:Jan-Werner Müller, Nicolás Shea, Christian Kern, Susanne F. Wille, Doris Leuthard, Patrick Chappatte
The Future of Arab Economies
As the Fourth Industrial Revolution transforms the way people live, work and produce, how can Arab economies realize the full potential of a digitally enabled future?
Digital transformation of industries
Nurturing skills and quality education
Regional approaches to data governance
This session was developed in partnership with Al Arabiya.
Speakers:Lara Habib, Peter Smith, Khaled H. Biyari, Youssef Chahed, Tarek Kabil
Press Conference with the Finance Minister of Brazil
The Finance Minister of Brazil, Henrique Meirelles, and the President of the Central bank of Brazil, Ilan Goldfajn , will share their views on the Annual Meeting 2017 and brief media on the latest developments in Brazil. Speakers:Georg Schmitt, Henrique Meirelles, Ilan Goldfajn
A Positive Narrative for the Global Community
Among millennials, 70% look optimistically to the future and more than half believe they can actively contribute to decision-making in their countries, according to the Global Shapers Annual Survey. How can leaders draw on this spirit to envision positive narratives for the future? Speakers:Christine Lagarde, Sheryl Sandberg, Meg Whitman, Zeinab Badawi, Sharmeen Obaid-Chinoy, Ahmad Sarmast
An Insight, An Idea with Jamie Oliver
A conversation with chef Jamie Oliver on driving a healthy and sustainable food revolution
Speakers:Arianna Huffington, Jamie Oliver
Press Conference: Fighting Cybercrime
Cybercrime has made the headlines in 2016 – ranging from corporate theft over espionage to the alleged influence over democratic elections. How can business, public sector and law enforcement be more effective in the fight against an invisible opponent operating across borders? Speakers:Noboru Nakatani, Jean-Luc Vez, Georg Schmitt, André Kudelski, Michèle Coninsx
An Insight, An Idea with Yemi Osinbajo
A conversation with Nigerian Vice-President Yemi Osinbajo on driving inclusive growth in Africa's largest economy. Speakers:Yemi Osinbajo
A Basic Income for All: Dream or Delusion?
Fundamental shifts in the world of work are eroding traditional social safety nets. Could a universal basic income be the solution? Speakers:Guy Standing, Tamzin Booth, Neelie Kroes, Amitabh Kant, Michael Sandel.
Is the Transatlantic Alliance at a Tipping Point?
The bonds of trust and common values across the Atlantic are under question. Can the Transatlantic Alliance survive?
Divergence of threat perception
Geo-economic visions
Values vs realpolitik
Speakers:Ngaire Woods, Ursula von der Leyen, Frederick Kempe, James G. Stavridis, Jeanine Hennis-Plasschaert
Feel Better or Your Money Back
This past year saw the launch of a one-shot gene therapy with a money-back guarantee should the treatment not work. Is the time ripe for a new era of healthcare pricing based on patient outcome? Speakers:Omar Ishrak, Lloyd Dean, Allison Aubrey, Joseph Jimenez, Steve Rusckowski, Risa Lavizzo-Mourey.
China's Role for Global Prosperity
As globalization faces a backlash, China is engaging with the rest of the world through its internationalized currency, outbound investment strategies and One Belt, One Road Initiative. Can it revitalize the global economy? This session was developed in partnership with CCTV. Speakers:Li Sixuan, Fang Xinghai, Xiao Yaqing, Li Ruigang, Inga Beale, Thomas Farley.
Press Conference with the Prime Minister and Finance Minister of Sweden
The Prime Minister of Sweden, Stefan Löfven, and the Finance Minister of Sweden, Magdalena Andersson, will brief media on their participation in the Annual Meeting in Davos. Speakers:Stefan Löfven, Magdalena Andersson
Fixing Europe's Disunion
The European project is under pressure from economic, populist and international challenges. How can the European Union keep its authority as a global player?
Euro-sceptic populism beyond Brexit
Fragile diplomacy on migration and trade
Prospects for the EU Global Strategy
This session was developed in partnership with Politico.
Speakers:Joseph E. Stiglitz, John Harris, Emma Marcegaglia, Pierre Moscovici, Luca Visentini
Global Statesman Award: Lessons from Peace in Colombia
Join this special conversation with the 2016 Nobel Peace Prize Laureate, President Juan Manuel Santos of Colombia, to discuss leadership and peace in a turbulent world, and to recognize his unremitting efforts in the Colombian peace process with the Forum's Global Statesman Award.
Speakers:Juan Manuel Santos, Klaus Schwab, Børge Brende
Press Conference: Accelerating Reforms in the Arab World
The determination of Arab leaders for economic reforms has created a unique momentum to stimulate growth and create much needed jobs. This press conference offers an opportunity to get perspectives from both government and business leaders on how to accelerate and make complex reforms work in the region. This will also be a curtain raiser for the agenda of the 2017 World Economic Forum on MENA to take place in Jordan, 19-21 May. Speakers:Mirek Dusek, Imad Najib Fakhoury, Majid Jafar, Georg Schmitt, Philippe Le Houérou.
Disrupting the Status Quo of Gender Roles
While gender roles are shifting, women still face many barriers to fulfilling their potential. How can we challenge stereotypes and institutional inertia to achieve gender parity within our lifetimes? This session was developed in partnership with Univision/Fusion. Speakers:Enrique Acevedo, Christine Lagarde, Robert E. Moritz, Cynthia Castro, Sharmeen Obaid-Chinoy, Isabel de Saint Malo de Alvarado
Energy's Clean Transition
Energy production and consumption account for two-thirds of the world's greenhouse gas emissions. How will the energy sector drive the transition towards a carbon-neutral global economy?
Clean energy sources and technologies
Decarbonized fossil fuels
Viable carbon offsetting strategies
Speakers:Nur Bekri, Patrick Pouyanné, Oleg V. Deripaska, Steve Sedgwick, Ignacio Sánchez Galán, Christiana Figueres

World Economic Forum 2017
Investing in Peace
Local and foreign businesses can have an unintended impact on fragile and post-conflict environments. What business practices can be adopted to "do no harm" and best contribute to conflict resolution and reconciliation?
Investing in fragile and post-conflict environments
Developing responsible value chains
Bridging infrastructure and employment gaps
Speakers:Sipho M Pityana, Juan Manuel Santos, Philippe Le Houérou, Neal Keny-Guyer, Peter Brabeck-Letmathe, Rania A. Al Mashat
Shaping Davos: Cities as Hubs of Innovation
The sheer density and diversity of cities fosters collaborative creativity that has produced some of humanity's best ideas throughout history. How can we further enable cities as platforms for innovation?
Belfast on boosting the knowledge economy
Seattle on building an inclusive innovation ecosystem
Quito on learning and productive cities
Vancouver on making urban sustainability profitable
This session was developed with the Global Shapers Community, focusing on global issues and local solutions. It is part of a series of live events connecting to 16 cities worldwide. Speakers:Christian Ulbrich, Fahd Al-Rasheed, Jamil Anderlini
Press Conference: Risk Transformation in the Fourth Industrial Revolution
What are the risks technological innovations pose to society? How do we protect society against the new and more complex risks of the 4th Industrial revolution? How can we enable insurers to play their pivotal role as enablers of innovation? In what way should we bring public and private stakeholders together to mitigate these risks? What are the responsibilities of governments, insurers, product designers, manufacturers and the consumer in protecting against these risks? What actions need to be taken? Speakers:Inga Beale, David Kenny, Georg Schmitt
Issue Briefing: Ending Executive Pay
Excessive executive pay deals are criticized by shareholders and employees alike. How can market mechanisms be tamed to limit excess yet keep talent mobile? Speakers:Aron Cramer, Rajeev Vasudeva, Michael Hanley
The Great American Divide
A new president will be inaugurated this week. In the aftermath of a divisive election season, how can the United States be reunited? This session was developed in partnership with TIME. Speakers:Laura D'Andrea Tyson, Lonnie Bunch, Gemma Mortensen, Michael Duffy, Hamza Yusuf Hanson, Dov Seidman
A New Chapter for Climate Action
What are the priorities for the international community to accelerate progress on the Paris Agreement? Speakers:Thomas L. Friedman, Stuart T. Gulliver, Yu Xubo, Erna Solberg, Sheikh Hasina, Al Gore
WATCH LIVE WEF Davos 2017
An Insight, An Idea with Jack Ma
A conversation with Alibaba founder Jack Ma on the future of online trade and globalization. Speakers:Jack Ma, Andrew R. Sorkin
Press Conference with the President of Colombia
The President of Colombia and Nobel Peace Laureate, H.E. Juan Manuel Santos, will brief media on the latest developments in the Colombian peace process. Speakers:Georg Schmitt, Juan Manuel Santos
New Models for Europe
The UK's decision to leave the EU, prolonged economic crisis and rising anti-immigrant sentiment are challenging the traditional model of European integration. What alternative models to regional integration could mark the beginning of a new Europe? Speakers:Ngaire Woods, Jacques de Watteville, Aurelia Frick, Leonardo Quattrucci, Peter Brabeck-Letmathe.
Share this debate with your friends!
Follow #eudebates on Google News and on Facebook