eDelivery provides technical specifications and standards, software and ancillary services for advanced customs controls and data exchange. By building with eDelivery, public and private organisations from different sectors can easily create a safe and interoperable channel to transfer documents and data among each other over a public or private network.
The European Commission's Directorate-General for Taxation and Customs Union (DG TAXUD) is implementing a new customs pre-arrival security and safety programme underpinned by a large-scale advanced cargo information system.
Protect the security and safety of the EU and its citizens
Security is a top priority for the European customs! The recent terrorist attacks in EU Member States and other countries have reiterated the crucial role that Customs play in border security. Customs offices control goods, and persons carrying goods, by all means of transport at the EU's external border.
Protect the financial interests of the EU
Customs duties are one of the sources of income for the EU and its Member States. Therefore, Customs authorities have the responsibility to ensure that customs duties are properly applied. The European Commission and the Member States work on establishing common risk criteria and standards for financial risks. Those criteria help customs in all the Member States to target suspicious declarations and apply the correct amount of duties when necessary.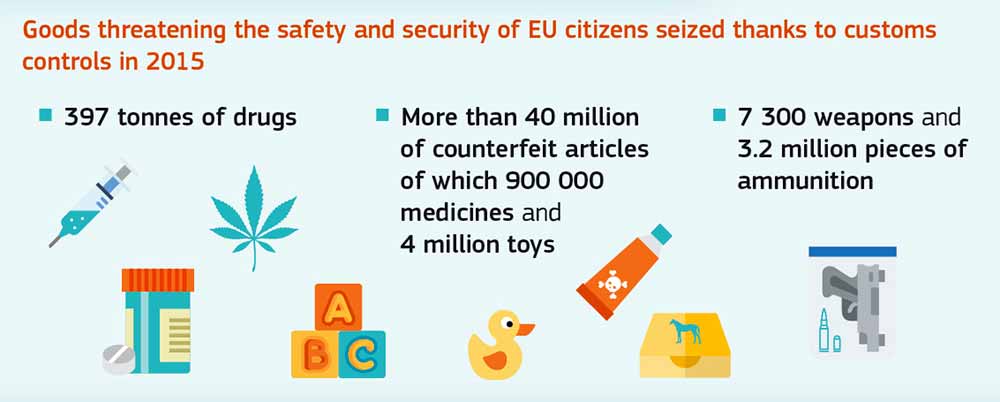 Import Control System 2 – ICS2
Known as 'ICS2' (Import Control System 2), the programme is one of the main contributors towards establishing an integrated EU approach to reinforce customs risk management under the Common Risk Management Framework (CRMF). ICS2 went into operation on 15 March 2021, marking a significant reinforcement of the Customs Union's first line of defence.
The ICS2 Shared Trader Interface (STI) system can generate over 1.5 billion consignments, resulting in three times as many messages transmitted via the eDelivery AS4 message exchange protocol.
AS4 is the core standard promoted through the Connecting Europe Facility (CEF) eDelivery Building Block. Using the eDelivery AS4 Dynamic Receiver profile, DG TAXUD was able to reuse the pre-existing UUM&DS authentication system, where economic operators can register their digital certificates to authorise messages arriving at their eDelivery Access Point.
The use of eDelivery allows each economic operator to select its preferred eDelivery-conformant software product to establish its Access Point, which avoids vendor lock-in and allows organisations to make the best possible product selection according to their constraints.
What is ICS2?
The European Union makes it a top priority to ensure the security of its citizens and single market. Every year trillions of Euros worth of goods are imported into EU, with the EU-27 now accounting for around 15 % of the world's trade in goods. The European Union is implementing a new customs pre-arrival security and safety programme, underpinned by a large-scale advance cargo information system – Import Control System 2 (ICS2). The programme is one of the main contributors towards establishing an integrated EU approach to reinforce customs risk management under the common risk management framework (CRMF).
The pre-arrival security and safety programme will support effective risk-based customs controls whilst facilitating free flow of legitimate trade across the EU external borders. It represents the first line of defence in terms of protection of the EU internal market and the EU consumers. The new programme will remodel the existing process in terms of IT, legal, customs risk management/controls and trade operational perspectives.
Are you ready for ICS2?
ICS2 introduces more efficient and effective EU customs security and safety capabilities that will:
Increase protection of EU citizens and the internal market against security and safety threats;
Allow EU Customs authorities to better identify high-risk consignments and intervene at the most appropriate point in supply chain;
Support proportionate, targeted customs measures at the external borders in crisis response scenarios;
Facilitate cross-border clearance for the legitimate trade;
Simplify the exchange of information between Economic Operators (EOs) and EU Customs Authorities.
We want to future-proof our products by integrating this new infrastructure. As CEF eDelivery is based on open standards for data exchange across the borders, we can provide better and cheaper services to new and existing customers.

Ulrik Falkner Thagesen, CEO e-Boks
The EU's new advance cargo information system ICS2 supports implementation of this new customs safety and security regulatory regime aimed to better protect single market and EU citizens. It will collect data about all goods entering the EU prior to their arrival. Economic Operators (EOs) will have to declare safety and security data to ICS2, through the Entry Summary Declaration (ENS). The obligation to start filing such declarations will not be the same for all EOs. It will depend on the type of services that they provide in the international movement of goods and is linked to the three release dates of ICS2 (15 March 2021, 1 March 2023, and 1 March 2024).
Advance cargo information and risk analysis will enable early identification of threats and help customs authorities to intervene at the most appropriate point in the supply chain.
eDelivery upgrades the customs controls
In 2018, DG TAXUD decided to use the AS4 message exchange protocol in their ICS2. ICS2 will use eDelivery in its Shared Trader Interface (ICS2 STI) to provide economic operators who bring the goods into the European Union a single instance of a harmonised trader interface with the customs authorities.
By connecting to an AS4 Access Point, any economic operator with a role in the commercial supply chain can easily submit electronic entry summary declarations to a Member State customs authority. The streamlined process considers international standards and avoids unnecessary point-to-point interaction for businesses and customs controls.
The secure eDelivery channel between the economic operator's Access Point and the STI's Access Point prevents data loss, damage, unauthorised alterations and provides evidence that information has been sent and received.
Using the CEF eDelivery Building Block
DG TAXUD chose to use eDelivery because it is a standards-based, well-established message exchange protocol and security, reliability, and scalability. More than 35 countries have deployed almost 600 eDelivery Access Points to date. ICS2 STI and systems like it can, through eDelivery, accommodate vast numbers of economic operators in a market-friendly and future-proof way. Read the eDelivery success stories to see how the eDelivery Building Block has ensured secure, interoperable data exchange throughout Europe.
eudebates eDelivery
Share this debate with your friends!
Follow #eudebates on Google News and on Facebook